tndte.gov.in Result Diploma Board Exam April 2019 DOTE Polytechnic : TN DTE Tamil Nadu Technical Education
Organisation : Directorate of Technical Education Tamil Nadu TN DTE DOTE.
Announcement : Result
Examination : Polytechnic/Diploma Board Exam April 2019
Get your Result here : 112.133.214.75/result_Apr2019/
Home Page : http://www.tndte.gov.in
Want to comment on this post?

Go to bottom of this page.
Diploma Result :
Tentative date of Result publication for Diploma Board Exam is on 05.06.17
Related / Similar Result : TNDTE Diploma Result February 2021
Enter Reg.No to get your Result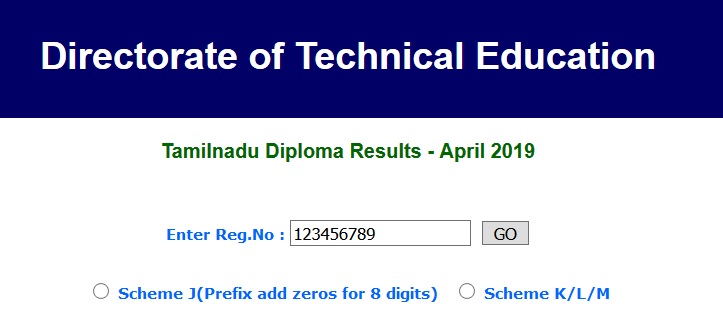 Disclaimer:
The DOTE is not responsible for any inadvertent error that may have crept in the results being published on Net. The results published on Net are for immediate information to the examinees. These cannot be treated as original Mark Sheets. Original Mark Sheets will be issued by the DOTE separately.
Contact us :
DIRECTORATE OF TECHNICAL EDUCATION (DoTE) Chennai
Telephone:
044 – 22350525 , 22351018
Corrections in Mark Sheets & Diploma Certificates :
The application for any correction in the certificate (Diploma (or) Mark Sheet) should reach the Chairman's Office within 60 days from the date of issue along with the original defective certificates.
The candidate / institute has to pay the correction fee prescribed by the Government by way of Demand Draft drawn in the name of "Additional Director of Technical Education (Examinations), Chennai – 600 025" payable at "Chennai" and send the same along with the prescribed application duly signed by the Principal.
Increased fee (applicable for duplicate certificates) will be collected from those applying after 60 days, for corrections. The candidate should enclose a Xerox copy of his S.S.L.C. mark sheet attested by the Principal of his / her institution as a proof for the corrections required.
The name of candidate (spelling and initials) and the date of birth will be printed in the mark sheets as in the X standard mark sheet only. No correction will be made in the certificates based on Gazette Notifications, for change of names, initials, date of birth etc.