mahahsscboard.maharashtra.gov.in HSC Result 2018 : Maharashtra State Board of Secondary & HSC Education
Organisation : Maharashtra State Board of Secondary and Higher Secondary Education (MSBSHSE)
Announcement : Maharashtra HSC result 2018
Examination : Higher Secondary Certification Examination (HSC)
Examination Date : February 21 to March 20
Result Released Date : May 30 2018 at 1 pm
Home Page : https://mahahsscboard.maharashtra.gov.in/
Want to comment on this post?

Go to bottom of this page.
Maharashtra MSBSHSE HSC Result
Maharashtra State Board of Secondary and Higher Secondary Education (MSBSHSE Board) is likely to announce the Higher Secondary Certification Examination (HSC) results on May 30 2018 are expected to be released by 1 pm tomorrow.
Related : Maharashtra State Board of Secondary & Higher Secondary Education SSC Examination Result March 2017 : www.resultin.org/2735.html
** Students can take a print out of the online marksheet, said an official notification from the secretary of MSBSHSE.

How To Check the Result
VIA Online :
Step 1 : Go to the official website on mahresult.nic.in or mahahsscboard.maharashtra.gov.in
Step 2 : View On homepage, you will find link "Maharashtra Board HSC Result 2018"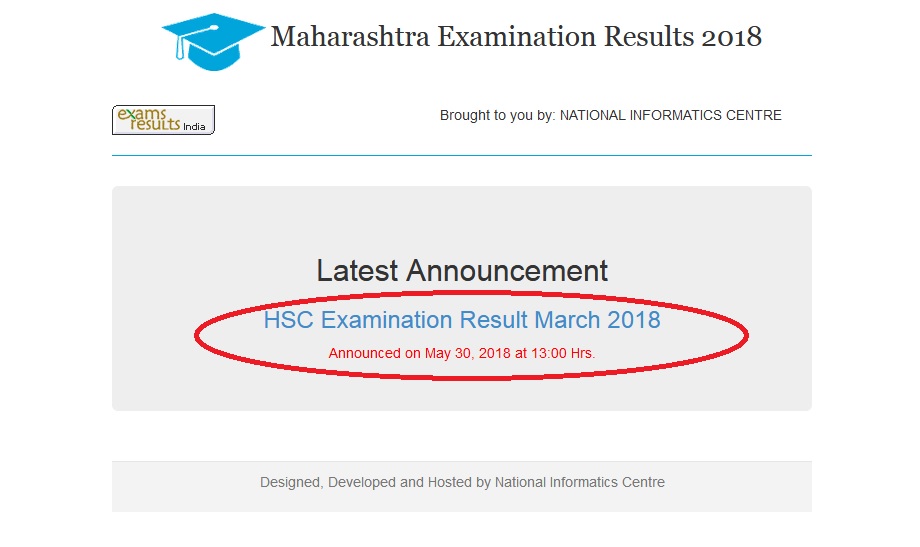 Step 3 : Next Screen will be opened. Enter the following details and get your score
1. Enter Your Roll Number [2598763]
2. Enter Your Mother's Name [Shanilini]
3. Click on "View Result " button, and get your result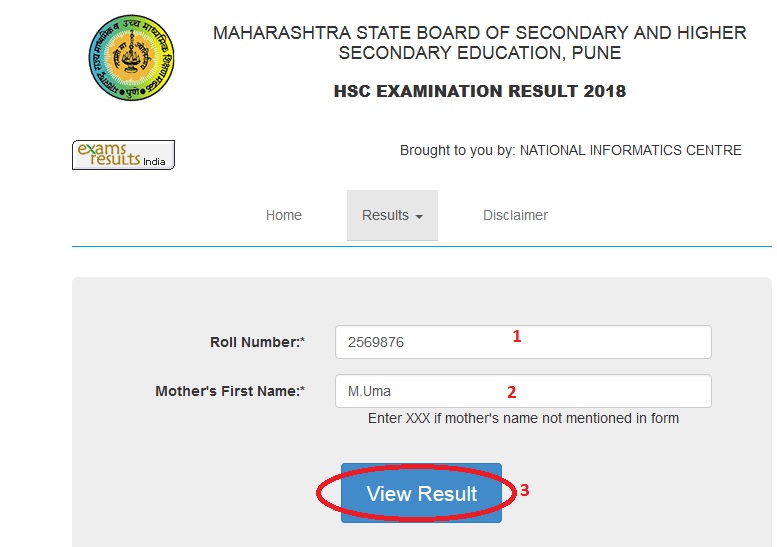 Step 4 : Download your Maharashtra HSC 12th Result 2018 and take a print out for future reference
VIA SMS :
Students can check their results from BSNL mobile by sending an SMS in the format-MHHSC and send to 57766
General Instruction
** For re-totaling of marks, students can submit the form from May 31 to June 9.
** For photocopy of answer sheet, the students can submit forms from May 31 to June 19.
** Students who wish to apply for revaluation need to apply for photocopy of answer sheet first and then apply for revaluation within 5 working days of them getting their photocopy at the respective divisional board.
** The re-examination will be held in July-August 2018.
** This year, over 14 lakh students had appeared for the HSC exams and 17.51 lakh students for the SSC examinations.
** The Maharashtra Board conducted the HSC exams from February 21 to March 20 and SSC examination from March 1 to March 24.