VIT B.Tech Programmes 2020 Results & Online Counselling : Vellore Institute of Technology
Organisation : VIT, Vellore
Announcement : VIT B.Tech Programmes 2020 Results
Website : https://vit.ac.in/
Want to comment on this post?

Go to bottom of this page.
VIT B.Tech Result
VIT B.Tech Programmes 2020 Result has announced.

Login credentials to view the Rank will be sent to your Registered Mobile Number/Email address.
How To Check Result?
Just follow the simple steps mentioned below to know the result.
Steps:
Step-1 : Go to the link https://vit.ac.in/
Step-2 : Enter your Application Number
Step-3 : Enter your Password (sent to your registered mobile / e-mail)
Step-4 : Enter the Verification Code and Submit.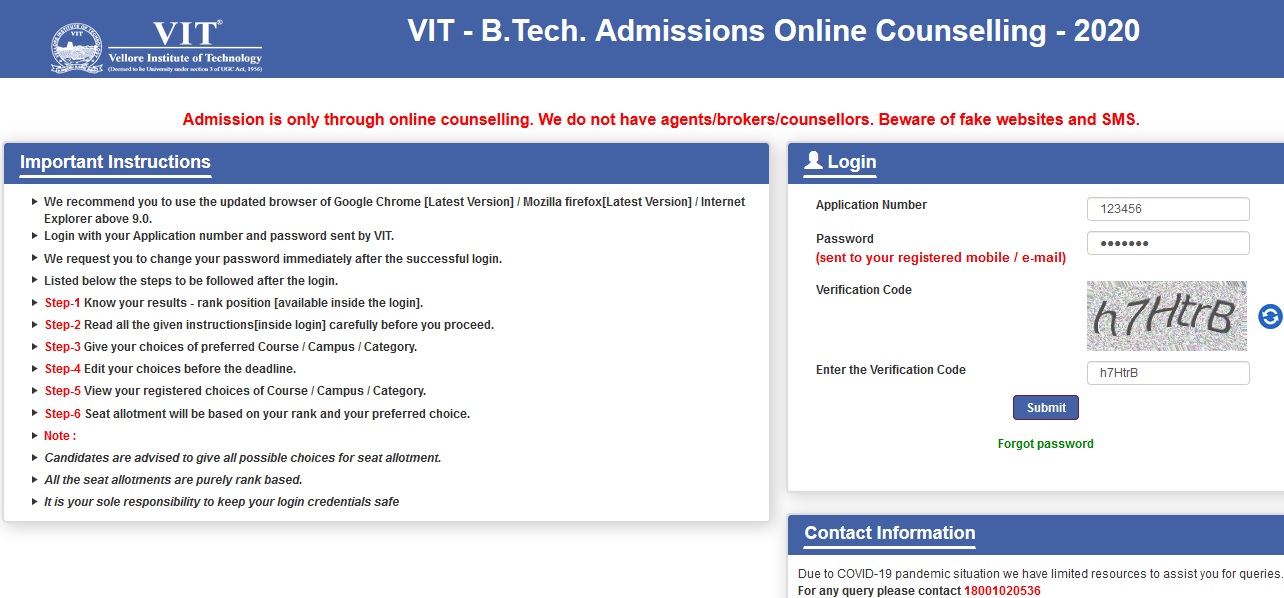 Note:
Admission is only through online counselling. We do not have agents/brokers/counsellors. Beware of fake websites and SMS.
Online Counselling
Login with your Application number and password sent by VIT. We request you to change your password immediately after the successful login.
Steps:
Listed below the steps to be followed after the login.
Step-1 :Know your results – rank position [available inside the login].
Step-2: Read all the given instructions[inside login] carefully before you proceed.
Step-3: Give your choices of preferred Course / Campus / Category.
Step-4: Edit your choices before the deadline.
Step-5: View your registered choices of Course / Campus / Category.
Step-6: Seat allotment will be based on your rank and your preferred choice.
Note :
** Candidates are advised to give all possible choices for seat allotment.
** All the seat allotments are purely rank based.
** It is your sole responsibility to keep your login credentials safe
Contact Information
Due to COVID-19 pandemic situation we have limited resources to assist you for queries. For any query please contact 18001020536
Note:
We recommend you to use the updated browser of Google Chrome [Latest Version] / Mozilla firefox[Latest Version] / Internet Explorer above 9.0.
About VIT:
VIT was established with the aim of providing quality higher education on par with international standards. It persistently seeks and adopts innovative methods to improve the quality of higher education on a consistent basis.The campus has a cosmopolitan atmosphere with students from all corners of the globe.
Experienced and learned teachers are strongly encouraged to nurture the students. The global standards set at VIT in the field of teaching and research spur us on in our relentless pursuit of excellence. In fact, it has become a way of life for us. The highly motivated youngsters on the campus are a constant source of pride. Our Memoranda of Understanding with various international universities are our major strength.
They provide for an exchange of students and faculty and encourage joint research projects for the mutual benefit of these universities. Many of our students, who pursue their research projects in foreign universities, bring high quality to their work and esteem to India and have done us proud. With steady steps, we continue our march forward. We look forward to meeting you here at VIT.