NIOS Class 12th Public Exam March-April 2020 Result : National Institute of Open Schooling
Organisation : The National Institute of Open Schooling (NIOS)
Exam Name : Public Examination March-April 2020
Announcement : Class 12th (Intermediate) Result 2020
Exam Held On : February 2020
Website : https://www.nios.ac.in/default.aspx
Want to comment on this post?

Go to bottom of this page.
NIOS Intermediate Result
The National Institute of Open Schooling has released the result of Intermediate Public Examination March-April 2020

How To Check Result?
Enter your enrollment number and captcha image to view the result. Just follow the simple steps mentioned below to know the result of NIOS Class 12th result.
Steps:
Step-1 : Go to the link https://results.nios.ac.in/home/public-exam
Step-2 : Enter your "Enrollment Number"
Step-3 : Enter the "Captcha Code"
Step-4 : Click on "Submit" button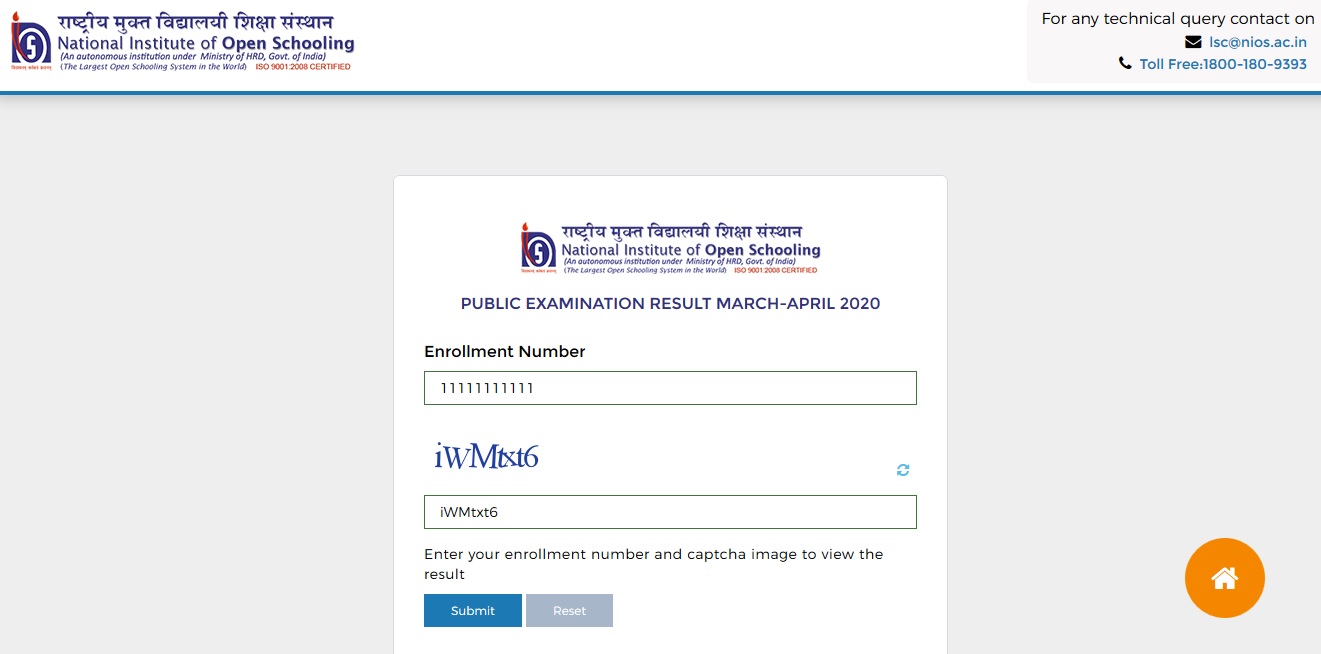 Contact
For any technical query contact on lsc@nios.ac.in

Toll Free:1800-180-9393
What is NIOS?
NIOS is "Open School" to cater to the needs of a heterogeneous group of learners up to pre-degree level. It was started as a project with in-built flexibilities by the Central Board of Secondary Education (CBSE) in 1979.
In 1986, the National Policy on Education suggested strengthening of Open School System for extending open learning facilities in a phased manner at secondary level all over the country as an independent system with its own curriculum and examination leading to certification.
Consequently, the Ministry of Human Resource Development (MHRD), Government of India set up the National Open School (NOS) in November 1989. The pilot project of CBSE on Open School was amalgamated with NOS.
Through a Resolution (No. F.5-24/90 Sch.3 dated 14 September 1990 published in the Gazette of India on 20 October 1990), the National Open School (NOS) was vested with the authority to register, examine and certify students registered with it up to pre-degree level courses. In July 2002, the Ministry of Human Resource Development amended the nomenclature of the organisation from the National Open School (NOS) to the National Institute of Open Schooling (NIOS) with a mission to provide relevant continuing education at school stage, up to pre-degree level through Open Learning system to prioritized client groups as an alternative to formal system, in pursuance of the normative national policy documents and in response to the need assessments of the people, and through it to make its share of contribution:
** To universalisation of education,
** To greater equity and justice in society, and
** To the evolution of a learning society.
What does NIOS do?
The National Institute of Open Schooling (NIOS) provides opportunities to interested learners by making available the following Courses/Programmes of Study through open and distance learning (ODL) mode.
** Open Basic Education (OBE) Programme for 14+ years age group, adolescents and adults at A, B and C levels that are equivalent to classes III, V and VIII of the formal school system.
** Secondary Education Course
** Senior Secondary Education Course
** Vocational Education Courses/Programmes
** Life Enrichment Programmes
Envisages schooling by providing a learning continuum based on graded curriculum ensuring quality of education for children, neo-literates, school drop-outs/left-outs and NFE completers.