IIT Delhi JEE Advanced 2020 Seat Allotment Result Round 5 : josaa.nic.in
Organisation : IIT Delhi
Exam Name : Joint Entrance Examination (JEE) Advanced 2020
Announcement : Seat Allotment Result
Round : 5
Website : https://jeeadv.ac.in/
Want to comment on this post?

Go to bottom of this page.
IIT Delhi JEE Seat Allotment Result
Joint Seat Allocation Authority has released the JEE 2020 Seat Allotment Result Round 5.
Related / Similar Result : OJEE 2020 Result

How To Check Seat Allotment Result ?
Just follow the simple steps mentioned below to know the result of JEE 2020 Seat Allotment Result Round 5.
Steps:
Step-1 : Go to the link https://josaa.nic.in/result/root/result_login.aspx
Step-2 : Enter your JEE(Main) 2020 Application Number
Step-3 : Enter your Password
Step-4 : Enter the Security Pin and
Step-5 : Click on "Login" button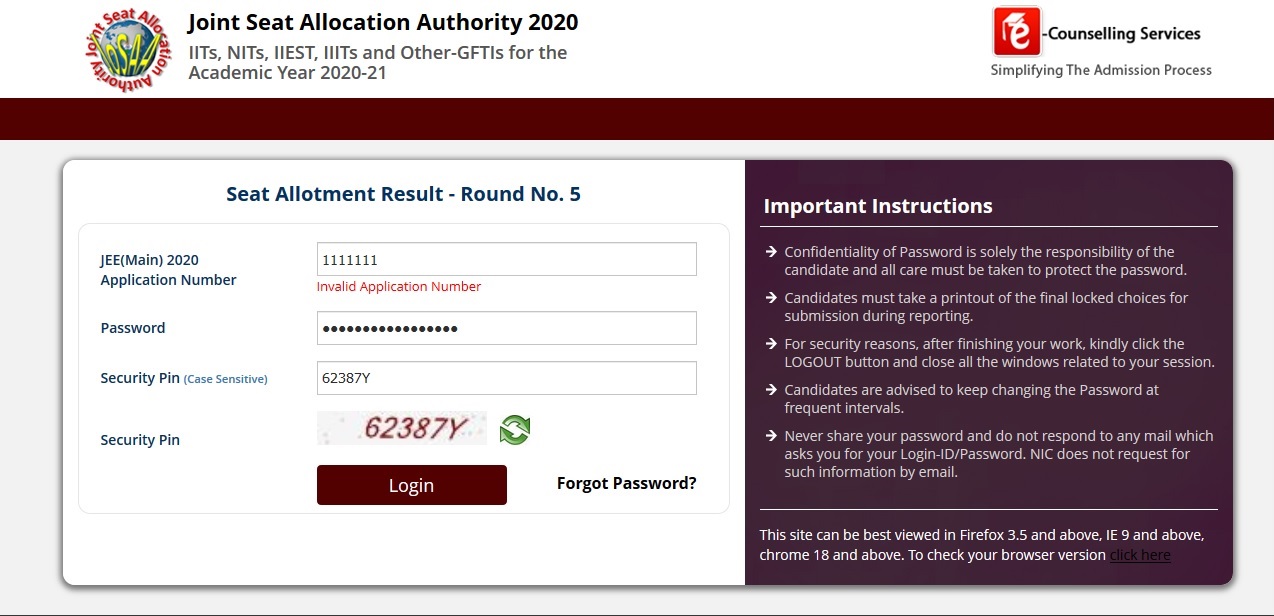 Important Instructions
** Confidentiality of Password is solely the responsibility of the candidate and all care must be taken to protect the password.
** Candidates must take a printout of the final locked choices for submission during reporting.
** For security reasons, after finishing your work, kindly click the LOGOUT button and close all the windows related to your session.
** Candidates are advised to keep changing the Password at frequent intervals.
** Never share your password and do not respond to any mail which asks you for your Login-ID/Password. NIC does not request for such information by email.
Academic Programmes:
Through JEE (Advanced), IITs offer admission into undergraduate courses leading to a Bachelor's, Integrated Master's or Bachelor-Master Dual Degree in Engineering, Sciences, or Architecture. Both Bachelor's and Master's degrees are awarded to candidates enrolled in the dual degree programs upon successful completion of the course curriculum.
In a few of the IITs, students enrolled into the 4-year Bachelor's program have the option to convert to B.Tech (Honors) and/or B.Tech. with Minors. The types of academic programs offered at IITs and their minimum duration are given in the next page.
However, not all programs and courses are available in all the institutes. The relevant programs and courses offered in 2020 are given in LIST of COURSES OFFERED IN 2020. The courses that will be offered in 2020 will be announced at the time of seat allocation (i.e., filling-in of choices for admission).
The programs are credit-based and thus offer the flexibility to progress at one's own pace. A minimum level of performance is essential for satisfactory progress. The medium of instruction is English.
| Degree | Name | Duration |
| --- | --- | --- |
| B.Tech. | Bachelor of Technology | 4 Years |
| B.S. | Bachelor of Science | 4 Years |
| B.Arch. | Bachelor of Architecture | 5 Years |
| Dual Degree B.Tech.-M.Tech. | Dual degree Bachelor of Technology and Master of Technology | 5 Years |
| Dual Degree B.S. – M.S. | Dual Degree Bachelor of Science and Master of Science | 5 Years |
| Integrated M.Tech. | Integrated Master of Technology | 5 Years |
| Integrated M.Sc. | Integrated Master of Science | 5 Years |
Only those academic programs for which admission is based on JEE (Advanced) examination are shown here. These Institutes also have other academic programs (B.Des., M.Tech., M.Sc., M.Des., Ph.D., etc.) with different admission criteria.