NTA UGC NET June Exam Result 2020 : ntaresults.nic.in
Organisation : National Testing Agency (NTA)
Exam Name : UGC NET June Exam 2020
Announcement : Result / Score
Result Announced On : 01-12-2020
Website : https://ntaresults.nic.in/NTARESULTS_CMS/Page/Page?PageId=1&LangId=P
Want to comment on this post?

Go to bottom of this page.
NTA UGC NET Result
National Testing Agency (NTA) has announced the result of UGC NET June Exam 2020.
Related / Similar Result : NTA Joint CSIR-UGC NET June Exam Result 2020

How To Check Result?
Just follow the simple steps mentioned below to know the result.
Steps:
Step-1 : Go to the link https://ntaresults.nic.in/NTARESULTS_CMS/Page/Page?PageId=1&LangId=P
Step-2 : Enter the Application Number
Step-3 : Enter the Date of Birth
Step-4 : Enter Security Pin (case sensitive) and
Step-5 : Submit the button.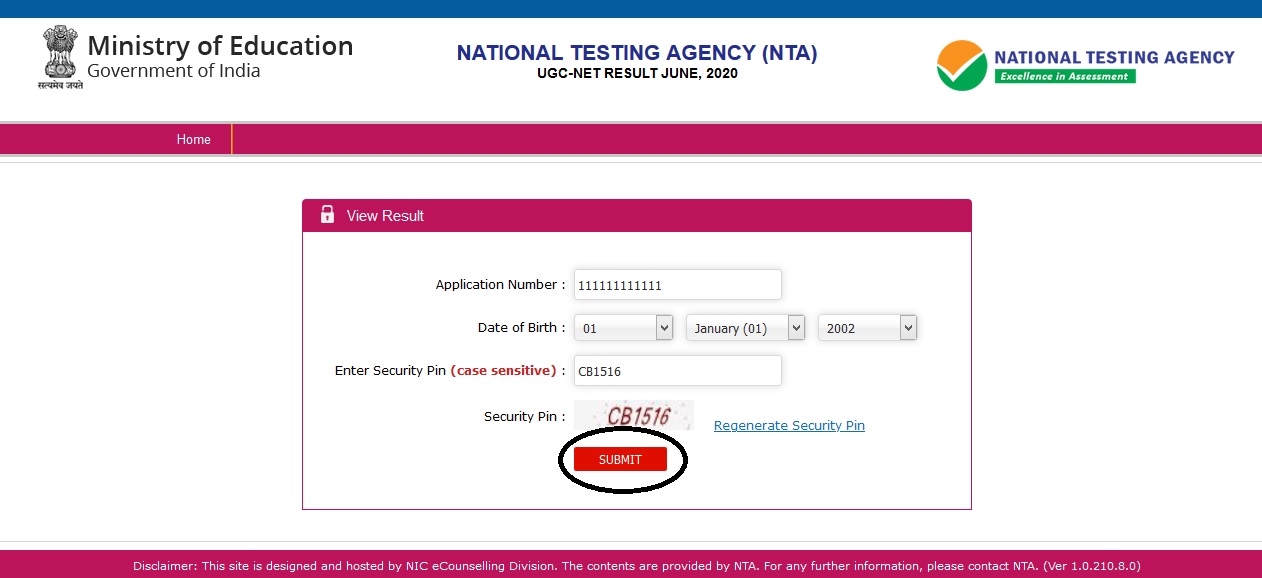 About UGC NET :
On behalf of University Grants Commission (UGC), the National Eligibility Test (NET) is conducted for determining the eligibility of Indian nationals for the Eligibility for Assistant Professor only or Junior Research Fellowship & Assistant Professor Both, in Indian Universities and Colleges.
Till June 2018, the CBSE conducted the NET in 84 subjects at 91 selected Cities of spread across the country. Since Dec 2018 onwards, the UGC- NET is being conducted by the NTA.
The award of JRF and or Eligibility for Assistant Professor depends on the aggregrate performance of the candidate in Paper-I and paper-II of UGC-NET. The candidates qualifying only for Assistant Professor are not to be considered for the award of JRF.
Candidates who qualify the test for eligibility for Assistant Professor are governed by the rules and regulations for recruitment of Assistant Professor of the concerned universities/colleges/state governments, as the case may be. UGC-NET is conducted twice a year. In June 2020, the examination is scheduled between 15 June and 20 June 2020.
Contact
National Testing Agency (NTA) has established a Query Redressal System (QRS), an online web-enabled system developed by NTA. QRS is the platform based on web technology which primarily aims to enable submission of queries/grievances by the Registered Candidate(s) of UGC NET December 2019 Examination with (24×7) facility for speedy and favourable redressal of the queries/grievances.
A Unique Registration Number will be generated for tracking the status of the queries/grievances. The Registered Candidate(s) are advised to use the online facility in the "Candidate Login" for speedy and favorable response.
NTA Helpdesk:
0120-6895200 (Operational 09:30 AM to 06:00 PM during working days)