Rajasthan PTET 2020 First Counselling/ Allotment Result : ptetdcb2020.com
Organisation : Government Dungar College, Bikaner (Rajasthan) India
Exam Name : PTET 2020
Announcement : First Counselling/ Seat Allotment Result
Website : ptetdcb2020.com
Want to comment on this post?

Go to bottom of this page.
Rajasthan PTET First Counselling Result
First Counselling Result of Rajasthan PTET 202 has announced.
Related / Similar Result : AYUSH AACCC UG Counseling R3/ Mop Up Round Final Result 2021

How To Check Result?
Just follow the simple steps mentioned below to know the result.
Steps:
Step-1 : Go to the link ptetdcb2020.com
Step-2 : Click on the link "Click Here for B.Ed. 2 Year Course"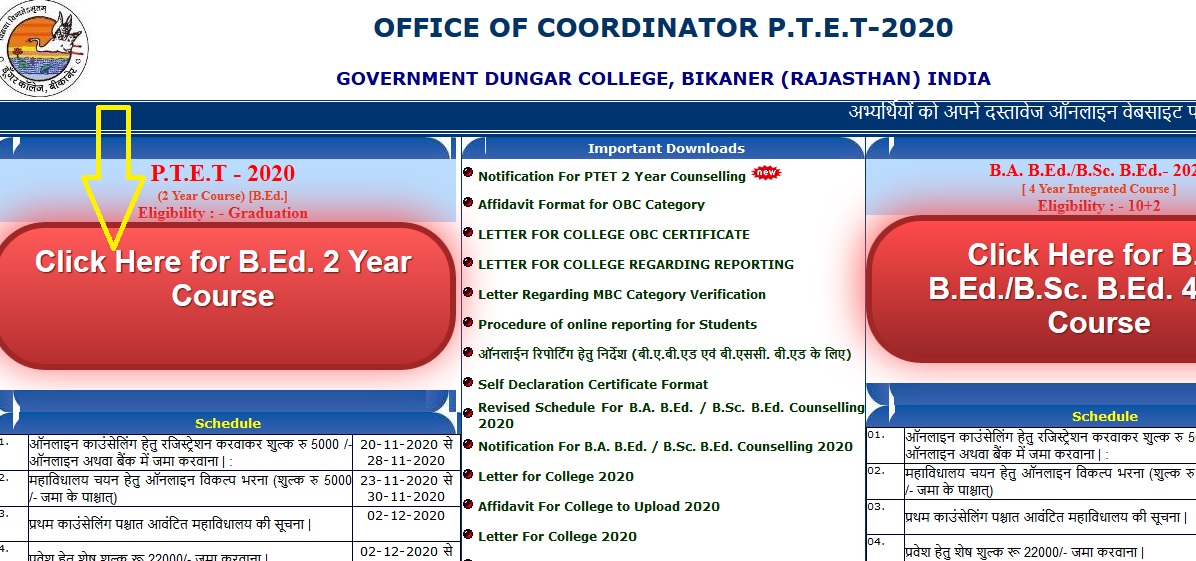 Step-3 : Then Click on the link "Print Allotment Letter"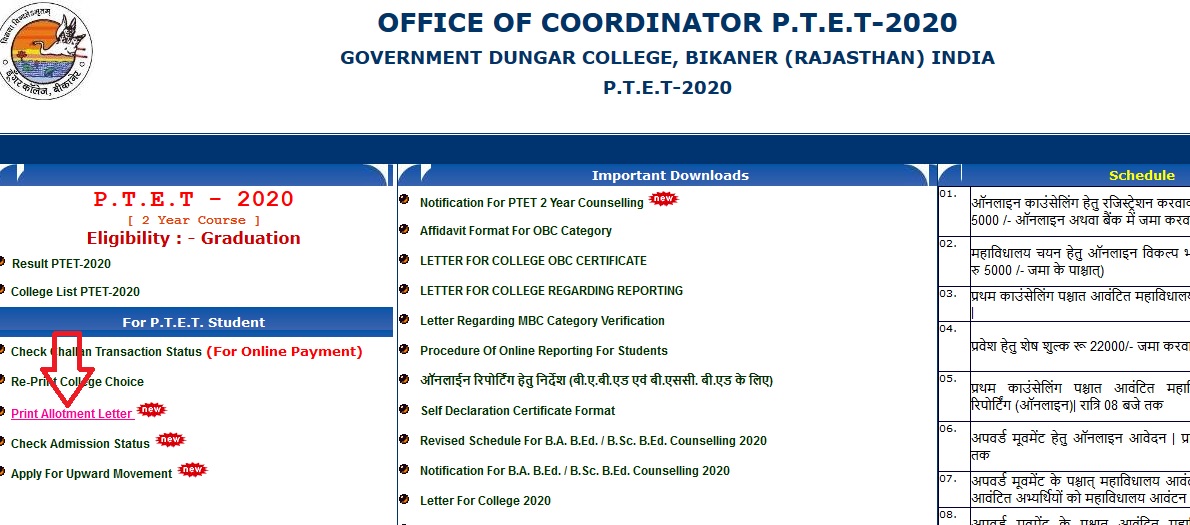 Step-4 : Enter the Roll Number and Counseling ID
Step-5 : Enter the Date of Birth
Step-6 : Select the Payment Option and
Step-7 : Click on "Login" button.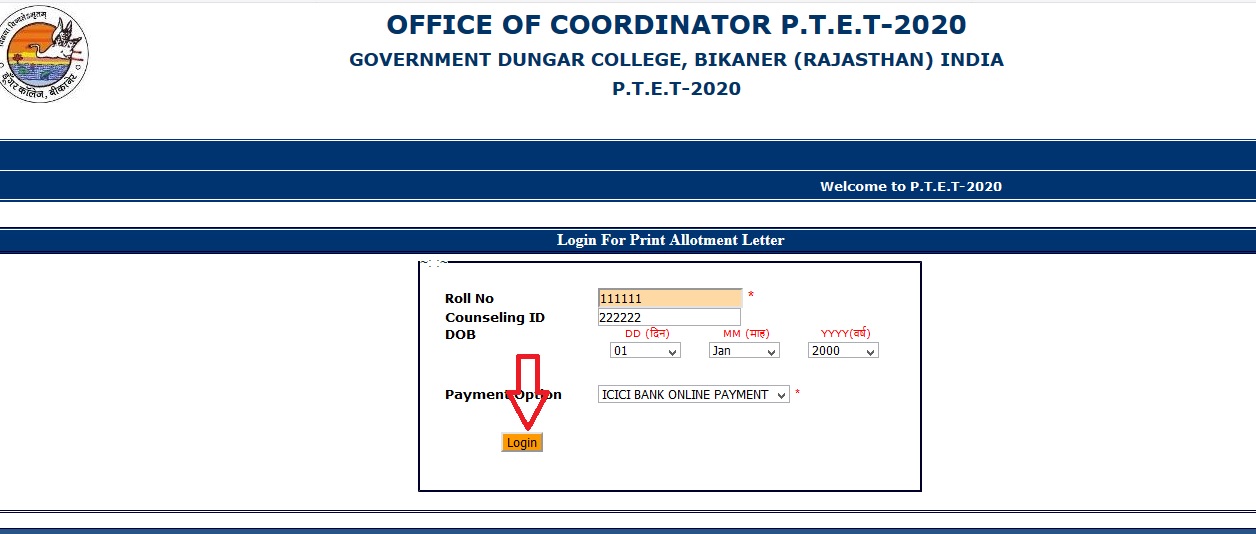 About College:
Accredited 'A' by NAAC, U.G.C. today Dungar College stands out as one of the most prestigious educational institutions of the country. Since its inception in 1928 the college has been a forerunner in the impartment and inculcation of the highest of educational and ethical standards.
At present the college proudly offers a range of 22 subjects including Sciences, Commerce and Humanities at the undergraduate level. The students can choose from an extensive array of 22 subjects at the postgraduate level and the college has also the privilege of holding M.Phil. courses in 10 subjects. Above all, Dungar College has remarkable facilities for the persual of Ph.D. and advanced research in all its P.G. departments.
Govt. Dungar College, Bikaner in its nascent state was called The Darbar School, started in 1837 by the then ruler of Bikaner State, Sh. Dungar Singhji. He was the 20th ruler of the erstwhile state of Bikaner. Coronated in 1872, he worked for the development of the state in the fields of education, judiciary, rail, roads, canals and general administration. development of the state in the fields of education, judiciary, rail, roads, canals and general administration.
After his demise, his brother Ganga Singhji elevated the Darbar School to Dungar Memorial College on 25 September, 1912. College level teaching started in 1928. In the year 1937 degree classes started in the college and in the same year the school was separated from the college with the name of Sardul School.
In July 1940, intermediate Science Faculty started with Physics and Chemistry subjects. In 1942, Degree level Science, law classes and post- graduate Departments of Hindi, Sanskrit, English, History and Economics were opened.
In 1962, the college shifted from Sardul school premises to its present-building. Postgraduate teaching in physics and Chemistry started in the same year. In 1970 M.Sc classes in Zoology, Botany and LLM classes in law faculty were started. The college enjoyed the privilege of being the only college of Rajasthan, where postgraduate studies in law being pursued.
Helpline
9672636905,7665369075