CCSU B.Ed Exam Result 2020 : ccsuniversity.ac.in
Organisation : The Chaudhary Charan Singh University, Meerut (CCSU)
Exam Name : B.Ed Exam 2020
Announcement : Result Announced
Website : http://ccsuniversity.ac.in/
Want to comment on this post?

Go to bottom of this page.
CCSU B.Ed Result
The Chaudhary Charan Singh University, Meerut (CCSU) has announced the result of B.Ed Exam 2020

The students who have appeared for the examination can visit the official website of the university to check the B.Ed results.
How To Check Result?
Just follow the simple steps mentioned below to know the result.
Steps:
Step-1 : Go to the link http://www.ccsuresults.com/regpvt2013.php
Step-2 : Select BEd in the drop-down menu
Step-3 : Then select your semester
Step-4 : Enter your roll number and
Step-5 : Click on "Submit" button.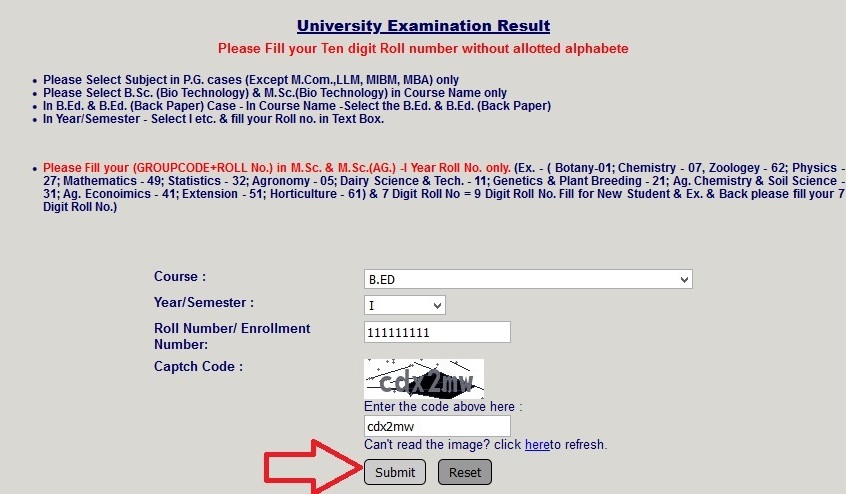 Note:
** Please Fill your Ten digit Roll number without allotted alphabete
** Please Select Subject in P.G. cases (Except M.Com.,LLM, MIBM, MBA) only
** Please Select B.Sc. (Bio Technology) & M.Sc.(Bio Technology) in Course Name only
** In B.Ed. & B.Ed. (Back Paper) Case – In Course Name -Select the B.Ed. & B.Ed. (Back Paper)
** In Year/Semester – Select I etc. & fill your Roll no. in Text Box.
** Please Fill your (GROUPCODE+ROLL No.) in M.Sc. & M.Sc.(AG.) -I Year Roll No. only. (Ex. – ( Botany-01; Chemistry – 07, Zoologey – 62; Physics – 27; Mathematics – 49; Statistics – 32; Agronomy – 05; Dairy Science & Tech. – 11; Genetics & Plant Breeding – 21; Ag. Chemistry & Soil Science – 31; Ag. Econoimics – 41; Extension – 51; Horticulture – 61) & 7 Digit Roll No = 9 Digit Roll No. Fill for New Student & Ex. & Back please fill your 7 Digit Roll No.)
About University:
Chaudhary Charan Singh University, formerly Meerut University, is a public state university located in Meerut, Uttar Pradesh, India. The university was established in 1965. It was later renamed to its current name after Chaudhary Charan Singh, former Prime minister of India.
The university started as Meerut University later named after Chaudhary Charan singh (Former Prime minister of India). the university having various schools of studies viz. sciences, Humanities and Social Sciences, and Engineering. M.Phil and PhD programmes were started in 1969. In 1973, Post Graduate level courses were also introduced with the modernized syllabi.
There are five Faculties with 22 UGC sponsored and 35 self-financed/job oriented. University has Engineering College located in Campus Sir Chhoturam Institute of Engg. & Technology, It is the most leading and only government engineering college in Western UP. 7 courses being run in the campus. A distinct feature of the academic program is the semester system.
The University has many degree colleges affiliated to it. They fall in two divisions: Meerut and Saharanpur with nine districts including Bagpat, Bulandshahr, Gautam Budh Nagar, Ghaziabad, Hapur, Meerut, Muzaffarnagar, Saharanpur and Shamli.
Library was established in 1968 to serve the academic community of the university in particular and this region of the state in general. In 1969, the library was temporarily moved in L.L.R.M Medical College Campus.