BSEH Haryana TET 2020 Result Teacher's Eligibility Test : haryanatet.in
Organisation : Board of Secondary Education, Haryana
Exam Name : HTET 2020 Haryana Teacher's Eligibility Test
Announcement : Result Declared
Exam Date : 02-03 January 2021
Website : https://bseh.org.in/
Want to comment on this post?

Go to bottom of this page.
BSEH Haryana TET Result
HTET-2020 Result has been lived in your respective login.

How To Check Result?
Just follow the simple steps mentioned below to know the result.
Steps:
Step-1 : Go to the link http://haryanatet.in/Login
Step-2 : Enter your Registration Number
Step-3 : Enter your Password
Step-4 : Enter the Captcha and
Step-5 : Click on "Sign in" button.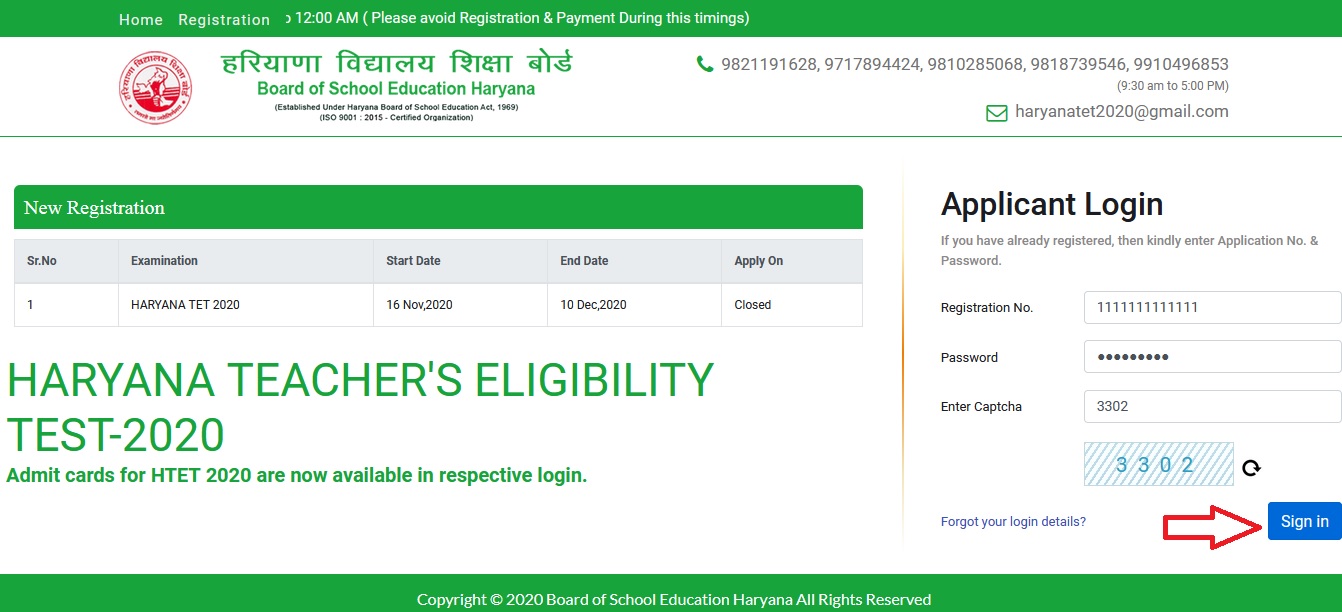 HTET Exam
HTET or Haryana Teacher Eligibility Test, conducted by the Board of Secondary Education Haryana (BSEH), is an eligibility test for teachers. HTET is held for different levels of teacher recruitment such as Primary Teacher (PRT), Trained Graduate Teacher (TGT), and Post Graduate Teacher (PGT) in schools run by Haryana State Government.
After qualifying the written test, candidates will receive a TET certificate which will remain valid for a period of seven years, earlier it was five years. The change has been made after a recent amendment by the state government. Candidates can apply for the vacancies released by BSEH after obtaining HTET certificate. In this article, we have tried a provide a detailed overview of HTET 2020 and other exam related events.
HTET written exam will have three papers, Paper – I, Paper- II and Paper – III. Paper – I is for Primary Teachers (Classes I – V), Paper – II is for Trained Graduate Teachers – TGT (Class VI -VIII) and Paper – III is for Post Graduate Teacher (class IX – XII). Find the highlights of HTET written test below:
Number of questions: 150
Total marks: 150
Total duration: Two and a half hours
Type of questions: Objective MCQs
Mode of exam: Offline (OMR based)
Negative marking: No
Sectional timing/cutoffs: No
HTET Answer Key
The Haryana Board of School Education (HBSE) has released HTET answer key 2020, the exams for level 1, 2 and 3 were held on January 2 and 3, 2021. Candidates who had appeared for the exams on the said dates can check HTET answer keys for respect levels at bseh.org.in. As per report, approximately 2,61,299 lakh candidates registered for HTET 2020.
Board also invites challenges from the candidates against wrong answer keys. Candidates have to submit their representation along with documentary proof to validate their claim. Candidates have to pay Rs 200 for each objection raised.
Subject matter experts will investigate the challenges thoroughly and a final answer key would be released by the board. If the challenges, sent by the candidates, are found correct, the amount would be refunded. If the challenges are not accepted by the experts, no money would be refunded.
Contact
9821191628, 9717894424, 9810285068, 9818739546, 9910496853 / haryanatet2020@gmail.com