tnpsc.gov.in Departmental Exam Result 2020 : Tamil Nadu Public Service Commission
Organisation : Tamil Nadu Public Service Commission (TNPSC)
Exam Name : Departmental Exam 2020
Announcement : Result Announced 2021
Exam Date : December 2020
Website : https://www.tnpsc.gov.in/Home.aspx
Want to comment on this post?

Go to bottom of this page.
TNPSC Departmental Exam Result
Tamil Nadu Public Service Commission (TNPSC) has announded the result of Departmental Exam held in December 2020.

How To Check Result?
Just follow the simple steps mentioned below to know the result
Step-1 : Go to the link https://www.tnpsc.gov.in/english/dcheckresult.aspx?id=c49f541e-8e01-409c-9e31-853c50940940
Step-2 : Enter Your Register Number
Step-3 : Click on Submit button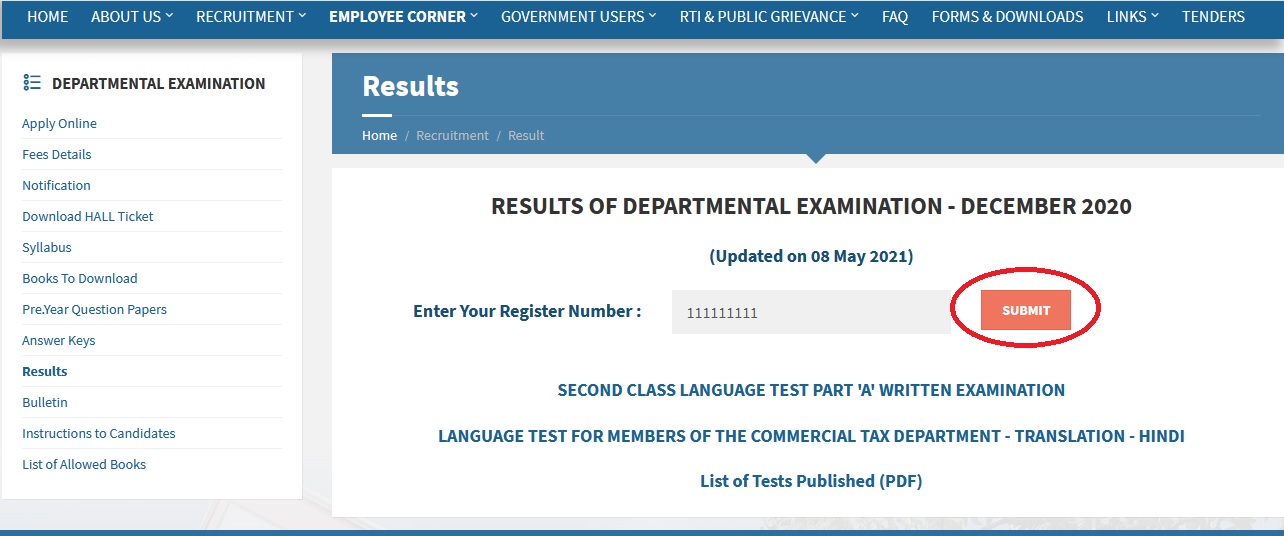 Note:
The results can be accessed through the Commission's website: www.tnpsc.gov.in. A detailed list containing the Register Numbers, Name, Father's Name & Date of Birth and address of the successful candidates will be published in the Tamil Nadu Public Service Commission Bulletin.
The copies of the TNPSC Bulletin can be obtained from the Director of Stationery and Printing, Publication Depot, Anna Salai, Chennai -600 002 on payment, and the same will be exhibited in the Collectorates, Taluk offices and District Central Libraries. The copies of TNPSC Bulletin will not be supplied from the Commission's Office.
The candidates are required to obtain minimum pass marks in both types (Objective &Descriptive) for considering them as passed in the Departmental Tests where combination of objective and descriptive type of examinations is prescribed in respect of the Departmental Test.
The Second Class Language Test (Tamil), is conducted for persons in Government Service and for persons aspiring for Government service, who have passed S.S.L.C. Public Examination, but have not studied Tamil as one of the Languages, or not studied the high school course in Tamil medium of instruction. Such candidates should submit a copy of SSLC Mark List / T.C. during the Viva Voce Examination.
The Third Class Language Test (Viva Voce) in Tamil/Telugu is conducted only for Assistant Curators in the Government Museum and in Hindi / Kannada / Malayalam / Telugu / Urdu for Probationary Sub-Registrars and Probationary District Registrars in the Registration Department. Hence the above candidates are directed to inform the details of their employment in the applications without fail
The candidates who satisfy the above conditions alone need apply for these tests and those who are not covered under the above categories are not eligible to apply for the test. The applications if any, received from candidates other than that of the two categories mentioned above will be rejected summarily / or made ineligible for the said tests, as the case may be
The candidates, who are applying for the II/II Class Part-D and III class language test should send the downloaded copy of applications immediately without fail to the Commission's office.(Test Code Nos: 019 & 201, 202, 203, 204, 205, 206 & 207)
Contact
Office : 044 –25300300/ 336/ 337/ 338 and 339
E-mail : contacttnpsc@gmail.com
Toll Free No. : 1800 425 1002