MBSE Class 10th Result 2021 : Mizoram Board of School Education
Organisation : Mizoram Board of School Education (MBSE)
Exam Name : High School Leaving Certificate Examination 2021
Announcement : Result
Website : http://mbse.edu.in/
Want to comment on this post?

Go to bottom of this page.
MBSE Class 10th Result
Mizoram Board of School Education (MBSE) has released the result of High School Leaving Certificate Examination 2021

How To Check Result Online?
Just follow the simple steps mentioned below to know the result.
Step-1 : Go to the link http://results.indiaresults.com/mz/mbse/hslc-exam-result-2021/query.htm
Step-2 : Enter Roll Number
Step-3 : Enter Registration Number (Without Year)
Step-4 : Click On 'Find results" button.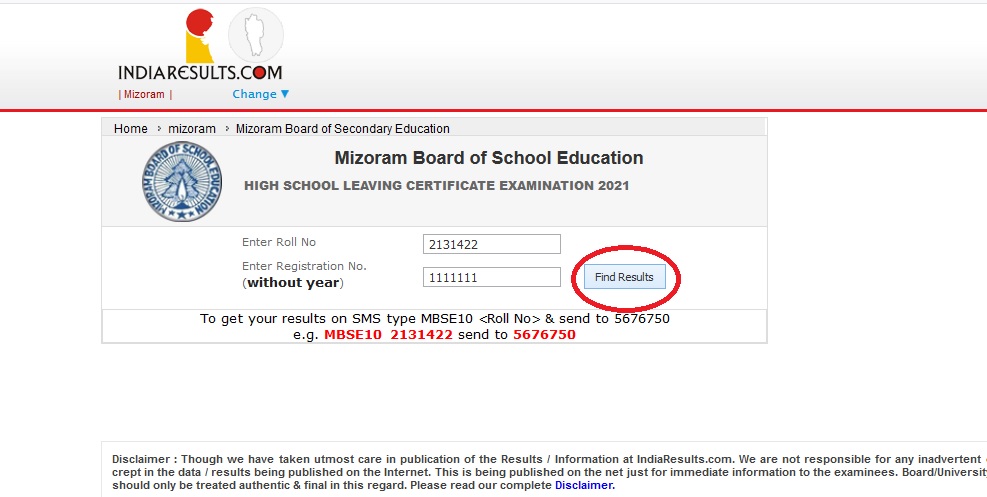 Check Result Through SMS
To get your results on SMS type MBSE10 <Roll No> & send to 5676750 e.g. MBSE10 2131422 send to 5676750
About MBSE:
The Chairman is a whole time officer appointed on contract service by the Government on terms and conditions agreed to between the person selected and the Government.
The duty of the Chairman is to see that the provisions of the MBSE Act, rules and regulations made thereunder are faithfully observed and he shall have all powers necessary for the purpose.
The Mizoram Board of School Education is an autonomous governmental body for academic administration in Mizoram, India, having its jurisdiction from elementary to higher secondary education. It was established by the Government of Mizoram in 1975 by the Mizoram Board of School Education Act.
The Mizoram Board of School Education was established in 1975 by the MBSE Act. The act was approved by the Legislative Assembly of the Mizoram Union Territory, at that time the administrative head was the Chief Executive Member Ch. Chhunga. The board as an autonous authority in education started functioning on 2 December 1976
Function:
The most important functions of MBSE are:
** it provides recognition to schools and institutes, and also monitors their administrative work
** it maintain quality education by prescribing curricular structure and recommending textbooks
** it takes the responsibility of conducting exams and publishes results
** it maintains co-ordination with the state government for any educational matters
** it motivates students and as well as teachers by conducting interactive programs
** it prescribes syllabus for its regular and vocational courses
** it regulates examinations for both regular and private candidates