WBBME High Madrasah, Alim & Fazil Exam 2021 Result West Bengal : wbresults.nic.in
Organisation : West Bengal Board of Madrasah Education (WBBME)
Exam Name : High Madrasah, Alim & Fazil Examination 2021
Announcement : Result Declared
Website : https://wbbme.org/
Want to comment on this post?

Go to bottom of this page.
West Bengal Madrasah Exam Result
West Bengal Board of Madrasah Examination – 2021, Results published on Friday, the 23rd July, 2021 at 12.00 noon
Related / Similar Result : West Bengal Council of Higher Secondary Exam Results 2021

How To Check Result?
Just follow the simple steps mentioned below to know the result.
Step-1 : Go to the link https://result.wbbme.org/ (or)  https://wbresults.nic.in/
Step-2 : Select Exam (High Madrasah/Alim/Fazil Examination)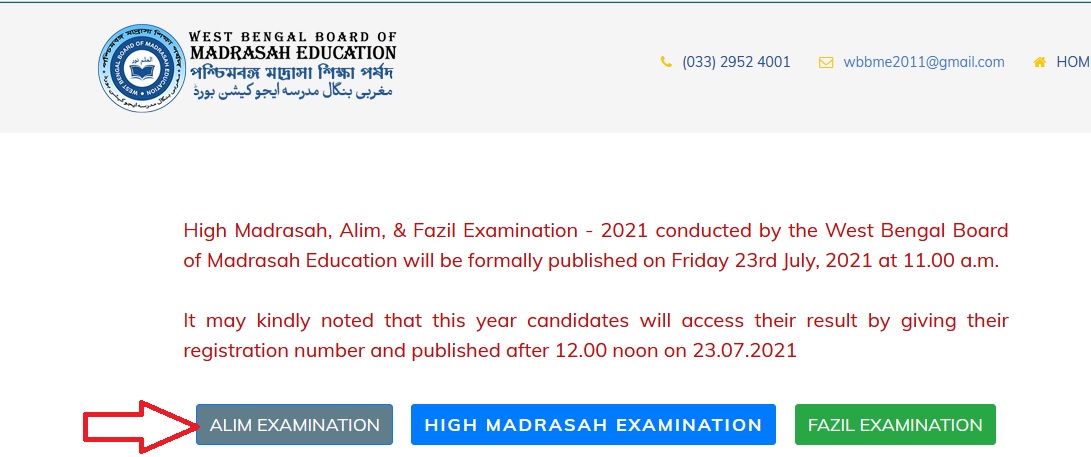 Step-3 : Enter Your Registration Number
Step-4 : Click on Submit button

Disclaimer:
Neither NIC nor Board/Council/Institution/University is responsible for any inadvertent error that may have crept in the results being published on NET. The results published on net are for immediate information to the examinees. These cannot be treated as original mark sheets. Respective Board/Council/Institution/University has provided the data and intimated for publication.
About WBBME:
The Madrasah Education system in Bengal was grown up and flourished with the foundation of the Calcutta Madrasah in 1780 by the British East India Company. In 1915, the new scheme of Madrasah Education was introduced by the initiatives of Moulana Abu Nasar Mohammad Waheed, I.E.S., the renowned educationist and administrator and the then Principal of Dacca Senior Madrasah.
The East Bengal Secondary Education Board (1921), the Board of Islamic Intermediate and Secondary Education Dacca for High Madrasah Education (1922) and the Central Madrasah Examination Board for Senior Madrasah Education (1927) were established to conduct the Madrasah Examinations till 1947.
As per recommendation of the Moazzamuddin Committee (1946), the Central Madrasah Examination Board was converted to the Madrasah Education Board, Bengal and later, in 1950 it was renamed as the West Bengal Madrasah Education Board, the oldest Board of Madrasah Education in our Country.
High Madrasah Education System:
It is a modern education system which was introduced by the Government of Bengal following the recommendations of Maulana Abu Nasar Md. Waheed. To cope up with modern trends and to meet the global challenges, the Govt. of West Bengal had constituted Madrasah Education Committee under the Chairmanship of Dr. A.R.Kidwai a renowned educationist of India and also the former Governor of Hariyana and West Bengal.
The Curriculum and syllabus has been restructured according to the recommendations of the said Committee. The syllabus and subjects taught in High Madrasahs are same as that of Madhyamik system except two subjects Arabic and Islam Parichay. From the year 2007, the four co-scholastic areas have been included in the curriculum of the Madrasah Education to promote the all round development of the learner. The details have been discussed later on.