RBI Security Guards Recruitment 2021 Mark Sheet : Reserve Bank of India
Organisation : Reserve Bank of India
Recruitment Name : RBI Security Guards Recruitment 2021
Announcement : Download Mark Sheets
Website : https://www.rbi.org.in/
Want to comment on this post?

Go to bottom of this page.
RBI Security Guards Mark Sheets
Reserve Bank of India has uploaded the Mark Sheets of RBI Security Guards Examination 2021.
Related / Similar Result : RBI Assistant Pre Exam Result 2022

How To Check Marks Online?
Just follow the simple steps mentioned below to know your marks
Step-1 : Go to the link https://ibpsonline.ibps.in/rbirpsgdec20/resdms_jul21/login.php?appid=1a87f5984c61428a4c5563084af8fd0d
Step-2 : Enter your Registration Number / Roll Number
Step-3 : Enter your Password or DOB in the format (DD-MM-YY)
Step-4 : Enter the Captcha code and
Step-5 : Submit the "Login" button to know your result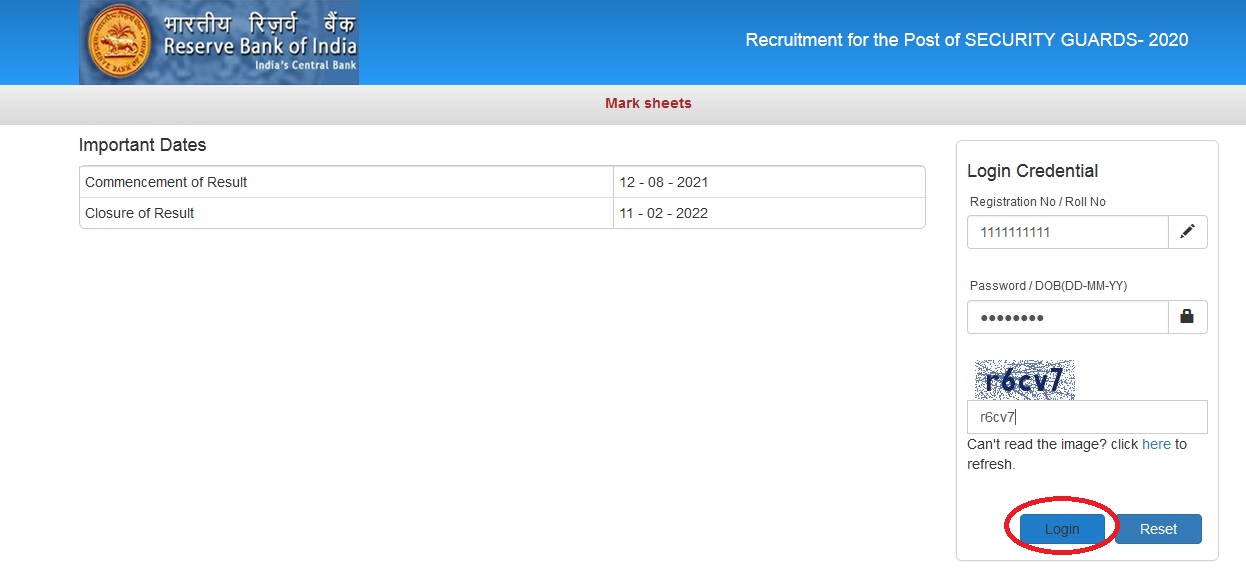 Important Dates
Commencement of Result :12 – 08 – 2021
Closure of Result : 11 – 02 – 2022
Disclaimer :
Result will be online from the above mentioned date. Check your result before the closure date.
Details of Physical Test:
Physical Test will be of qualifying nature. Candidates appearing for Physical test will have to produce a medical certificate (as per Annexure V) from a medical officer not below the rank of Civil Surgeon/Asst. Surgeon certifying that the candidate is medically fit to undergo physical test. Further, the candidates will have to give an undertaking as per Annexure IV. Travelling expenses will be borne by the candidates appearing for Physical test.
Identity Verification – Biometric Data Capturing or by other mode :
The Bank reserves its right to conduct biometric verification/other mode of verification any time during or after the selection. in case, if any candidate is found not to be genuine, then apart from taking legal actions against them, their candidature will be cancelled. Accordingly, the Bank, at various stages, may capture photograph / thumb impression / IRIS Scan of the candidates in digital format for verification/biometric verification of the candidates.
Candidate will ensure that their correct photograph/ thumb impression/ IRIS Scan is captured at various stages as any inconsistency will lead to rejection of their candidature. Candidates are advised to follow the guidelines that shall be provided to them in their call letter. In case the Bank decides to utilize capturing of bio-metric data for the purpose of verification, the candidate has to take proper precaution while submitting for bio-metric verification.
If the thumb impression / IRIS Scan to be captured is injured/damaged, the candidate shall immediately notify the concerned authority at the test centre. In such a situation, upon declaration being made by the candidate, the authorities would make some alternate provisions, impression of other fingers, toes etc. of the candidate may be captured for biometric data verification.
The Bank will not entertain any complaint/correspondence, at the subsequent stage of the selection process, in the event the biometric data do not match with the original biometric data taken at the online test centre. Decision of the Biometric data verification authority as regards its status (i.e. matching or not- matching) shall be final and binding upon the candidates