Nainital Bank Written Test Result 2021 : Management Trainee (MT) and Clerk
Organisation : Nainital Bank
Exam Name : Management Trainee (MT) and Clerk Recruitment 2021
Announcement : Written Test Result Announced
Exam Held On : 21.08.2021
Website : https://www.nainitalbank.co.in/english/recruitment.aspx
Want to comment on this post?

Go to bottom of this page.
Nainital Bank MT/Clerk Result
Nainital Bank has announced the result of Management Trainee (MT) and Clerk Recruitment 2021 Written Test.

How To Check Result?
Just follow the simple steps mentioned below to check your result.
Step-1 : Go to the link https://www.nainitalbank.co.in/english/home.aspx
Step-2 : Enter your Registration Number
Step-3 : Select the Date of Birth
Step-4 : Enter the Captcha code.
Step-5 : Click on Submit button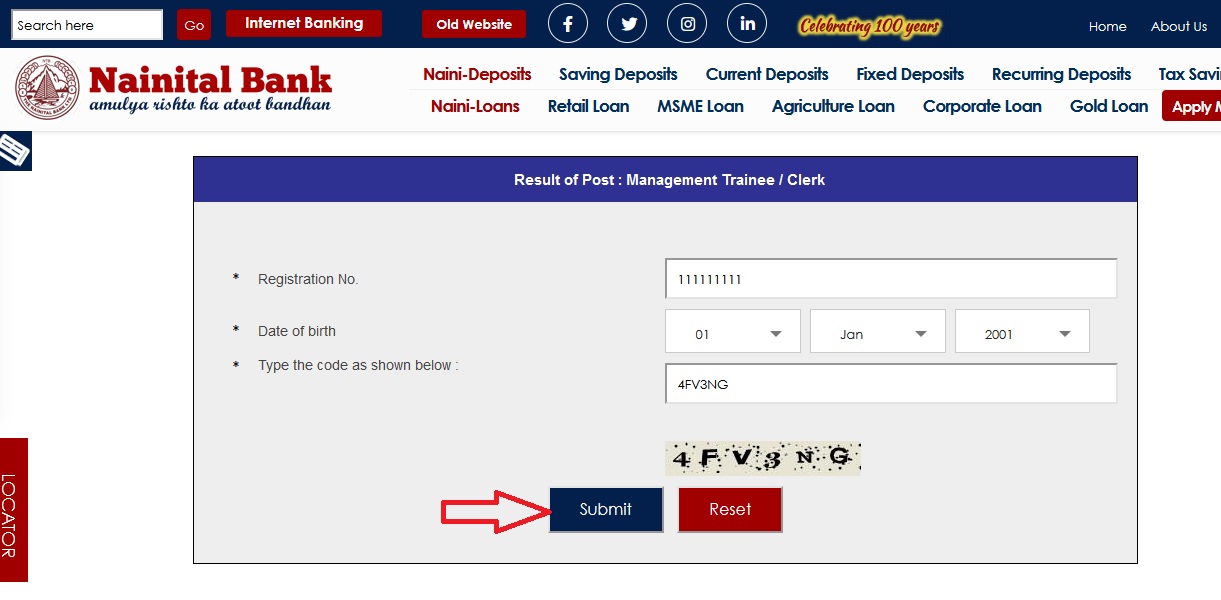 Process of Arriving at Scores
The scores of online examination are obtained by adopting the following procedure:
I. Number of questions answered correctly by a candidate in each objective test is considered for arriving at the correct score after applying penalty for wrong answers.
II. The correct scores so obtained by a candidate are made equivalent to take care of the minor difference in difficulty level, if any, in each of the objective tests held in different sessions to arrive at the Equated Scores
III. Test wise scores and scores on total is reported with decimal point upto two digits.
Note:
Cut offs are applied in two stages:
(i) On scores in individual tests.
(ii) On total score.
Other Clauses:
1. The possibility for occurrences of some problem in administration of the examination cannot be ruled out completely which may impact test delivery and/or result from being generated. In that event, every effort will be made to rectify such problem, which may include movement of candidates, delay in test. Conduct of a re- exam is at the absolute discretion of test conducting body. Candidates will not have any claim for a re-test. Candidates not willing to move or not willing to participate in the delayed process of test delivery shall be summarily rejected from the process.
2. Decision of the The Nainital Bank Limited in all matters relating to recruitment will be final and binding on the candidate. No correspondence or personal enquiries shall be entertained by The Nainital Bank Limited, in this behalf.
3. If the examination is held in more than one session, the scores across various sessions will be equated to adjust for slight differences in difficulty level of different test batteries used across sessions. More than one session are required if the nodes capacity is less or some technical disruption takes place at any centre or for any candidate.
4. The Nainital Bank Limited would be analyzing the responses (answers) of individual candidates with those of other candidates to detect patterns of similarity of right and wrong answers. If in the analytical procedure adopted by The Nainital Bank Limited in this regard, it is inferred/ concluded that the responses have been shared and scores obtained are not genuine/ valid, The Nainital Bank Limited reserves the right to cancel the candidature of the concerned candidates and the result of such candidates (disqualified) will be withheld.
5. Instances for providing incorrect information and/ or process violation by a candidate detected at any stage of the selection process will lead to disqualification of the candidate from the selection process and he/she will not be allowed to appear in any of the Nainital Bank Limited recruitment process in the future. If such instances go undetected during the current selection process but are deducted subsequently, such disqualification will take place with retrospective effect.