IERT Entrance Exam Result 2021 : Institute of Engineering and Rural Technology
Organisation : Institute of Engineering and Rural Technology, IERT Prayagraj
Exam Name : IERT Entrance Exam 2021
Announcement : Result Declared
Exam Held On : 24-27 August 2021
Website : https://iertonline.in/
Want to comment on this post?

Go to bottom of this page.
IERT Entrance Result
Institute of Engineering and Rural Technology, IERT Prayagraj has announced the result of IERT Entrance Exam 2021 held on 24-27 August 2021
Related / Similar Result : Dibrugarh University Backlog Exam Result 2021

How To Check Result Online?
Just follow the simple steps mentioned below to know your result.
Step-1 : Go to the link https://iertonline.in/?Length=4
Step-2 : Click on the link "Click Her To See Result"
Step-3 : Enter the Registration Number (or) Roll Number and date of Birth
Step-4 : Click on Search button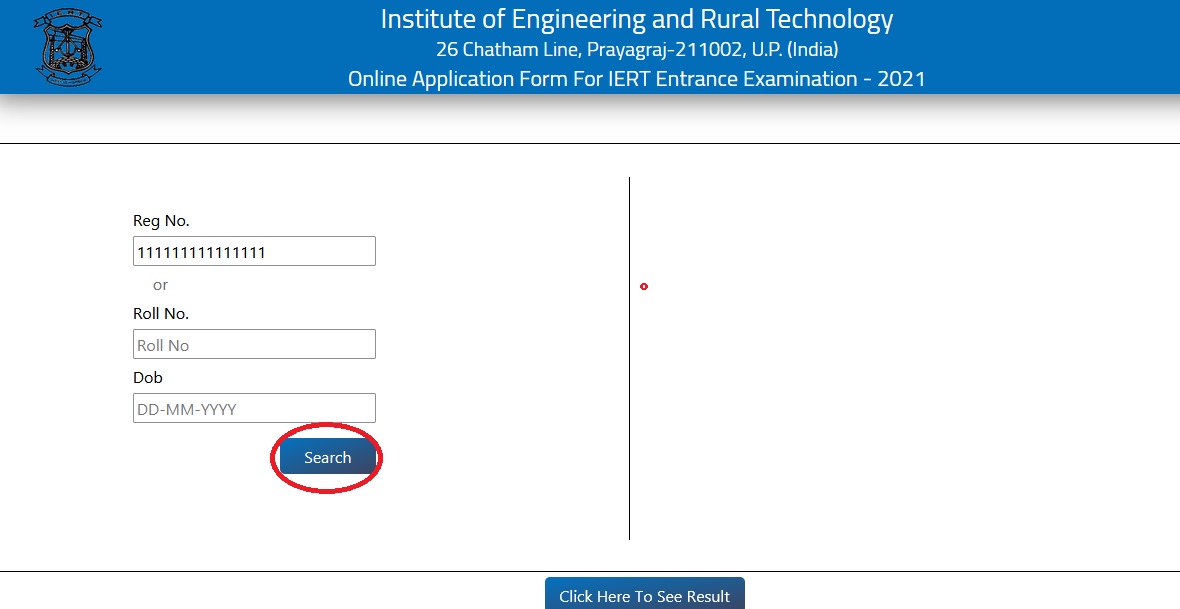 Intimation Letter
The candidates are instructed to be vigilant and watchful for the result of the Entrance Examination and should regularly see/visit the website www.iertonline.in although, the copy of the result will be displayed on the notice board of the Institute and notification of declaration of result will be sent to all lead newspaper of Prayagraj.
Letter of offer for attending counseling, for shortlisted candidates only, to take admission will be uploaded on the website www.iertonline.in as soon as the result is declared. The date, time and place for counseling will be given in the letter of offer for attending the counseling. No postal letter will be sent to the individual candidate.
If the shortlisted candidate(s) have not downloaded his/her letter of offer for counseling, from the website due to any reason, the institute will not be held responsible for the same. In any case, this letter of offer for counseling does not give any guarantee/right of admission in the institute to the candidate, as the letter of offer, to attend the counseling, is being uploaded more than the number of seats available for admission.
Allotment of Branch
(a) Branch of Engineering/Technology course is allotted carefully as per merit availability and option given by the candidate,
(b) If a candidate does not turn up/report at the time of counseling he/she immediately loses his/her merit and the candidate next to him in the merit is given his/her chance.
(c) Merit list of entrance examination result does not give any guarantee of the allotment of the desired branch to the candidate.
(d) Branch once allotted at the time of counseling will not be changed in any condition.
List of Documents Required
List of Documents Required At The Time of Counseling
(a) Admit Card of Entrance Examination.
(b) Original certificate and mark sheet of High School along with three set of of photocopies.
(c) Original mark sheet & certificate of any other educational qualification with three set of photocopies.
(d) Original character certificate issued by the Principal/Head of the institution last attended (not older than 6 months).
(e) All those original certificate and mark sheets which are required for the eligibility of the course.
(f) Original certificate of category OBC/SC/ST/FF/MW/PH/EWS of General category issued by the competent authority.
(g) Pension certificate of defense personnel for Military Ward (MW) dependent.
(h) 12 copies of same photograph which is pasted in application form.
(i) Income certificate after 31 March, 2021 issued by competent authority for those who wish to avail fee waiver or scholarship.
(j) Medical certificate along with blood group report from CMO (Chief Medical Officer) or from Medical Officer of any Govt. Hospital.
(k) Domicile certificate of U.P. of Father/Mother for those who have passed the High School or equivalent examination from outside Uttar Pradesh.
(l) Original Transfer Certificate (TC) first copy from the institute last attended, which should be countersigned by D.I.O.S. (District Inspector of School). The board/institute where the provision for countersign of D.I.O.S. on transfer certificate is applicable, the candidate must give a copy of the order for this purpose issued by the competent authority otherwise his/her admission shall be cancelled.
(m) If a candidate has any gap in his education he should submit the affidavit for the same.
(n) Separate Bank Draft of counseling fee and course fee in favor of Director, IERT payable at Prayagraj.
Contact
Call for any technical queries: +(91)9992995245 (10AM – 4PM)
Email : helpdesk@iertonline.in