karresults.nic.in II PUC Exam Result Aug-Sep 2021 : PUE Karnataka
Organisation : Department of Pre-University Education, Karnataka
Announcement : II PUC Examination (August-September 2021) Results
Website : http://www.karresults.nic.in/
Want to comment on this post?

Go to bottom of this page.
PUE Karnataka II PUC Result
Pre-University Examination Board, PUC Results(August-September 2021) announced on 20/09/2021

How To Check Result Online?
Just follow the simple steps mentioned below to know the II PUC Result.
Step-1 : Go to the link http://www.karresults.nic.in/first_PUCSUP_2021.asp
Step-2 : Enter your Registration Number
Step-3 : Click on "Submit" button to know your result.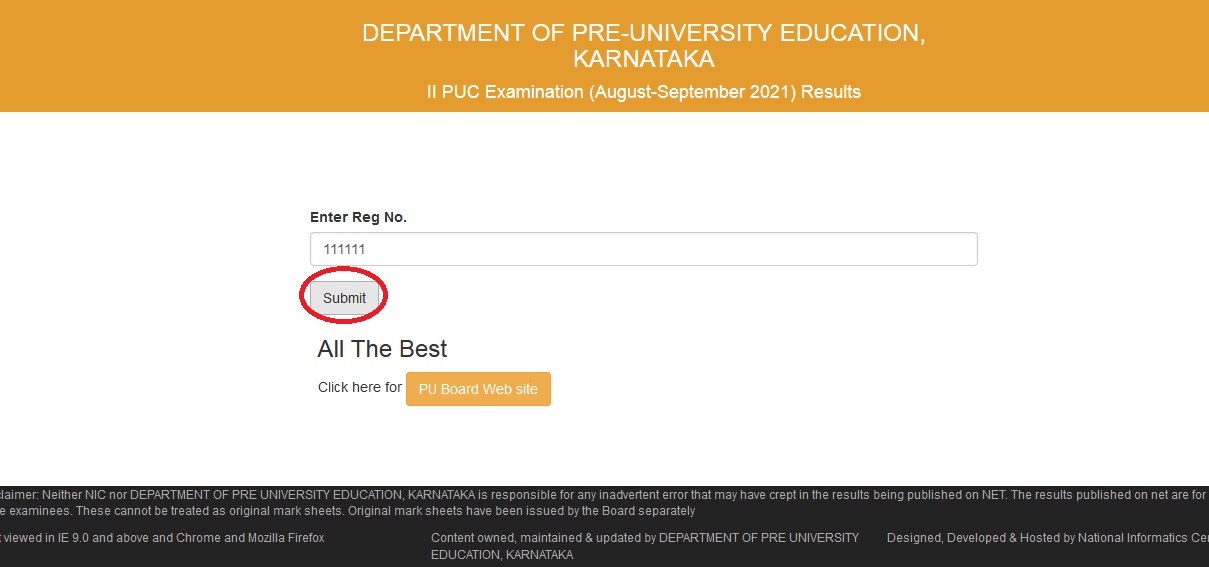 PUE II PU English Sample Paper
I. Answer the following in a word, a phrase or a sentence each.
1. Whose beautyis too dear for earth according to Romeo?
2. What does Juliet want Romeo to be after her death?
3. Name one of the taxes levied on the people of Monaco in 'Too Dear!'.
4. How much money did the criminal receive before he was let free in 'Too Dear!'?
5. Where do the souls of children live according to the speaker in 'On Children'?
6. The 'Archer' in 'On Children' refers to the a) speaker. b) prophet. c) almighty.
II.Answer any four of the following in a paragraph of 80-100 words.
7. How does Romeo express his appreciation for Juliet's beauty?
8. Write a note on the'gaming house' in 'Too Dear!'.
9. Why was the death sentence altered in 'Too Dear!? Explain.
10. What reasons did the prisoner put forward when he was asked to run away?
11. What should the parents keep in mind while raising their children according to the speaker in 'On Children'?
III.Answer the following in about 200 words.
12. Both Romeo and Juliet employ contrasting images in their expression of appreciation and admiration for each other. Elaborate.
OR
'Too Dear!' makes us aware of the foolishness of rulers. Justify.
OR
'On Children' persuades parents to look upon their children in new light. Discuss.
IV.A. Read the following passage and answer the questions set on it.
13. The word 'mosquito' comes from Spanish origin and it means 'little fly'. The word applies to some 3000 members of the family culicidae.Mosquitoes are found almost everywhere. Not all mosquitoes bite humans, in fact most prefer to bite something else. Male mosquitoes don't bite. Their only purpose in life is to mate. A female usually mates only once in her life and just before or soon afterwards, she goes on the hunt for blood, which she needs to feed her eggs with protein and vitamins.
a. Name the language from which the word 'mosquito' comes.
b. The word 'culicidae' in the passage refers to the family of a) plants. b) birds. c) insects.
c. Which of the mosquitoes don't bite?
d. What does the female mosquito need the blood for?
e. Add prefix to 'usual' to form its antonym.
V) 14. Complete the following by filling in the blanks using the right form of the verb given in brackets.
a) Monaco had neither a guillotine nor an expert. So it __________ (decide) to address an enquiry to the French Government. A letter _________ (write). Soon a reply _________ (receive).
b) A few years ago, a murder ________ (commit). The case ________ (try) in the most judicial manner. The criminal ________ (sentence) to death.
15. Report the following conversation.
Minister : Why do you not run away? There is no guard to keep you. The Prince will not mind.
Criminal : I know it. But I have nowhere to go.
About PUE Karnataka:
The Department of Pre-University, Government of Karnataka is the organization for implementation of higher secondary education in the state. We function under the Department of Primary & Secondary Education.
There are 1202 Government Pre-University colleges, 637 Aided Pre-University colleges, 1936 Unaided Pre-University colleges, 165 bifurcated Pre-University colleges & 13 Corporation Pre-university colleges.
After X standard every year about 10 lakhs students enroll in the 2 year Pre-university courses. The courses offered by the Department are broadly classified under the categories of Humanities (Arts), Science & Commerce. There are 23 subjects, 11 languages and 50 combinations in the Pre-University curriculum. In 2010-11, there were 4,43,185 students in Humanities in I & II PUC, 2,47,421 students in Science in I & II PUC & 2,77,189 students in commerce in I & II PUC.