UP BTC/ DELED 2017-18 Second Semester Result Uttar Pradesh : btcexam.in
Organisation : Uttar Pradesh Exam Regulatory Authority
Exam Name : UP BTC/ DELED 2017-18
Announcement : Second Semester Result 2021
Website : https://btcexam.in/
Want to comment on this post?

Go to bottom of this page.
UP BTC/ DELED Result
Uttar Pradesh Exam Regulatory Authority has announced the Second Semester Result of UP BTC/ DELED 2017-18.

How To Check Result?
Just follow the simple steps mentioned below to know the result
Step-1 : Go to the link https://btcexam.in/Reports/Searchmarksheet.aspx?STAT=D18AL
Step-2 : Enter Roll Number
Step-3 : Select Date of Birth
Step-4 : Enter Captcha
Step-5 : Click On Search button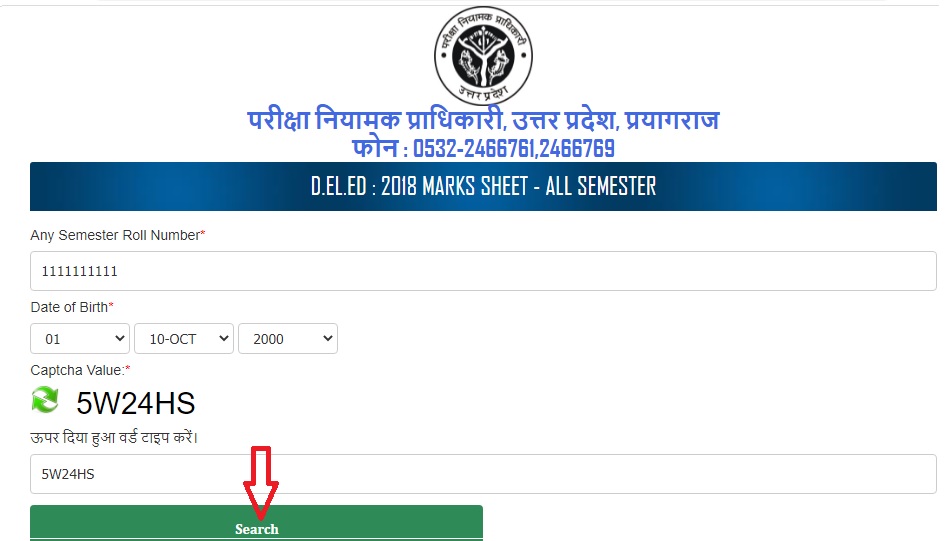 Examinations conducted by the Office of the Examination Regulatory Authority, Uttar Pradesh
(1)    BTC Training Exam
(2)    Specialized BTC Training Examination Year 2004,2007,2008
(3)     deceased dependent btc training exam
(4)    Urdu BTC Training Exam
(5)    Shiksha Mitras correspondence training exam
(6)    CT (Nursery) Entrance Exam
(7)    CT (Nursery) Training Examination
(8)    D.P.Ed Entrance Exam
(9)    dp ed training
(10)    Diploma in Guidance Psychology Training Exam
(11)    English Diploma Exam
(12)     library science certificate exam
(13)    Ju. Ha. School / Ha. School Level Urdu Proficiency Test
(14) Integrated Scholarship Examination:-
In this examination, students studying in class 08, whose age is not more than 15 years on 30th June of the examination year, are eligible to apply, and this examination is conducted on 15th May. Usually the result is declared by the end of June/July. On the basis of this examination, the prescribed number of students are selected for 03 types of scholarships.

(a) Student Salary Scholarship: – For this scholarship, the first 15 students who have passed the highest marks of the state are selected in order of merit.

(b) Block wise Meritorious Scholarship:- This scholarship is prescribed only to the students studying in the schools located in rural areas, in each development block. Number fixed at development block level – for general – 03, for son / daughter of landless labor – 02, for scheduled caste – 01, one additional scholarship for scheduled caste students in development block having more than 20 percent scheduled caste population And in the development blocks having Scheduled Tribes, 03 scholarships are provided for the students of Scheduled Tribes. There is no restriction of passing in each subject / question paper for this scholarship.

(c) High School Merit Scholarship: – For this scholarship, 2376 students/girls who pass in all subjects/question papers are selected in order of merit.
(15) Centrally Rescheduled Examination:- This examination is conducted to upgrade the merit of SC/ST students only. This examination is organized on the basis of reports by the Principal of Government Inter College located in 06 districts (Allahabad, Agra, Jhansi, Moradabad, Lucknow, Gorakhpur). According to the merit, the selected candidates are provided admission and scholarship under the free residential education scheme. This exam is free.

(16) State Level National Talent Search (First Selection) Examination:- This examination is conducted on the third Sunday in the month of November in all the districts of the state. Studied in class 10th as an institutional student who has passed the annual examination of class 09 with 55% or more (44 per cent or more for SC/ST candidates) marks.
The candidates are eligible to apply, this examination is free from the year 2007, studying in class 09 and passing in class 08 with the prescribed percentage of marks as above, the examination is also being conducted. Class 10 level examination will be over from the year 2009.
Only class 08 level exam will be conducted. In both the level examinations, 40 percent pass marks are fixed for general category candidates and 32 percent for reserved category. The examination application forms are sent to the examination centers set by the director psychology school, Uttar Pradesh, Allahabad, located at the district headquarters, for free distribution to the candidates.

(17) National Income and Merit Based Scholarship Examination: All such students who have secured more than 55 percent marks in class-7, whose parents' annual income is less than Rs. 1,50,000.00, can appear.
Contact
You can contact on the following addresses.
Secretary, Examination Regulatory Authority, Uttar Pradesh
Allanganj
Allahabad-211002
E-mail: secretarypnp.up@gmail.com
Phone No.-0532-2466769, 2466761
Fax – 0532-2466769, 2466761
State Council of Educational Research and Training JBTC Campus
Nishatganj
Lucknow-226007
E-mail: dscertup@gmail.com
Phone No.-0522-2780385, 2780505
Fax-0522-2781125