IIM Common Admission Test CAT 2021 Result : iimcat.ac.in
Organisation : Indian Institute of Management (IIM)
Exam Name : Common Admission Test (CAT 2021)
Announcement : Result Declared
Exam Date : 28th November 2021
Website : https://iimcat.ac.in/per/g01/pub/756/ASM/WebPortal/1/index.html?756@@1@@1
Want to comment on this post?

Go to bottom of this page.
What is IIM Common Admission Test (CAT)?
Common Admission Test 2021 (CAT 2021) is a prerequisite for admission to various Post Graduate and Fellow/Doctorate programmes of IIMs. CAT 2021 scores are allowed to be used by listed non-IIM member institutions. A list of such institutions is provided on the CAT website. IIMs have no role in the selection process of non-IIM institutions.
Related / Similar Result : IIFT NTA MBA IB Score Card/Result 2022

How To Check IIM CAT Result?
Just follow the below steps to check the result of IIM Common Admission Test (CAT) 2021
Steps:
Step-1 : Go to the link https://cdn.digialm.com/EForms/configuredHtml/756/72168/login.html
Step-2 : Enter your User ID
Step-3 : Enter your Password
Step-4 : Click on Login button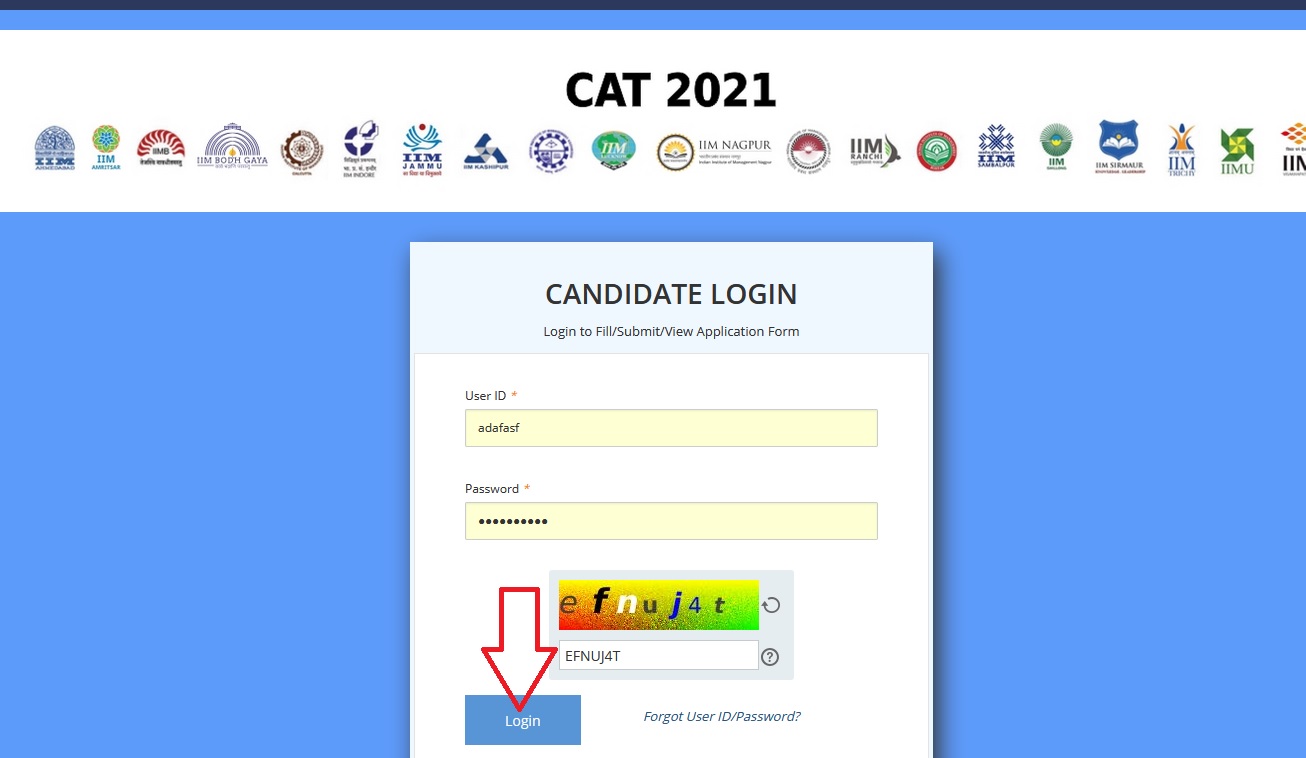 CAT 2021 Score
Candidates' CAT 2021 scorecards will be made accessible on the CAT website. Candidates may also be intimated individually by SMS. The CAT results are likely to be declared by the second week of January, 2022. The CAT 2021score is valid only till December 31,2022 and will accordingly be accessible on the website. Thereafter, no queries related to the issuance of CAT 2021scorecards will be entertained.
Admission Process
Please note that each IIM is independent to mandate their own eligibility criteria (including academic cut-offs and relative weights) and follow different selection processes. Performance in the CAT 2021 examination is an important component for consideration in the selection process. IIMs may also use the previous academic performance of the candidates, relevant work experience and other similar inputs in short-listing of candidates at various stages of the selection process. For more information, refer to the admissions policies of individual IIMs on their respective website
Reservation
As per the legal requirements, 15% of the seats are reserved for Scheduled Caste (SC) candidates, 7.5% for Scheduled Tribe (ST) candidates, 27% for Other Backward Classes candidates belonging to the "Non-Creamy" layer (NC-OBC), up to 10% for Economically Weaker Sections (EWS) candidates and 5% for Persons with Benchmark Disabilities (PwD).
As defined in The Rights of Persons with Disabilities Act, 2016 (RPwD Act 2016), "Person with Benchmark Disability" means a person with not less than forty percent (40%) of a specified disability where t h e specified disability has not been defined in measurable terms and includes a person with disability where the specified disability has been defined in measurable terms, as certified by the certifying authority. "Specified disability" means the disabilities as specified in the Schedule of the RPwD Act 2016.
The categories of disability are:
a) blindness and low vision,
b) deaf and hard of hearing,
c) locomotor disability including cerebral palsy, leprosy cured, dwarfism, acid attack victims and muscular dystrophy,
d) autism, intellectual disability, specific learning disability and mental illness
e) multiple disabilities from amongst persons under clauses (a) to (d),
f) other 'specified disabilities' mentioned in 'The Schedule' of the RPwD Act 2016.
For the purpose of being considered for reservation, the applicable Central Government list as on the last date of CAT registration shall be binding. No subsequent changes will be effective for CAT 2021 and any subsequent selection process of the IIMs.
What are the Important Dates of IIM CAT?
Important dates of IIM Common Admission Test (CAT) are,
Registration opens:August 04, 2021 (10:00 am)
Registration closes:September 15, 2021 (5:00 pm)
Admit card download:October 27–November 28, 2021
Test date:November 28, 2021
Result declaration:Second week of January, 2022