IBPS SO Pre Exam Result 2022 : Institute of Banking Personnel Selection
Organisation : Institute of Banking Personnel Selection (IBPS)
Exam Name : Specialist Officer SO Recruitment 2021
Announcement : Pre Exam Result 2022
Exam Date : 26th December 2021
Website : https://ibps.in/
Want to comment on this post?

Go to bottom of this page.
How To Check IBPS SO Pre Exam Result?
Institute of Banking Personnel Selection (IBPS) has released the result of Specialist Officer (SO) Pre Exam 2021. Just follow the simple steps mentioned below to know the result
Related / Similar Result : IBPS SO Main Exam Score 2022

Steps:
Step-1 : Go to the link https://ibpsonline.ibps.in/crpspxinov21/resopea_jan22/login.php?appid=ba0c1bc487e5575547c4771ce23254c9
Step-2 : Enter your Registration Number / Roll Number
Step-3 : Enter your Password or DOB in the format (DD-MM-YY)
Step-4 : Enter the Captcaha code and
Step-5 : Submit the "Login" button to know your result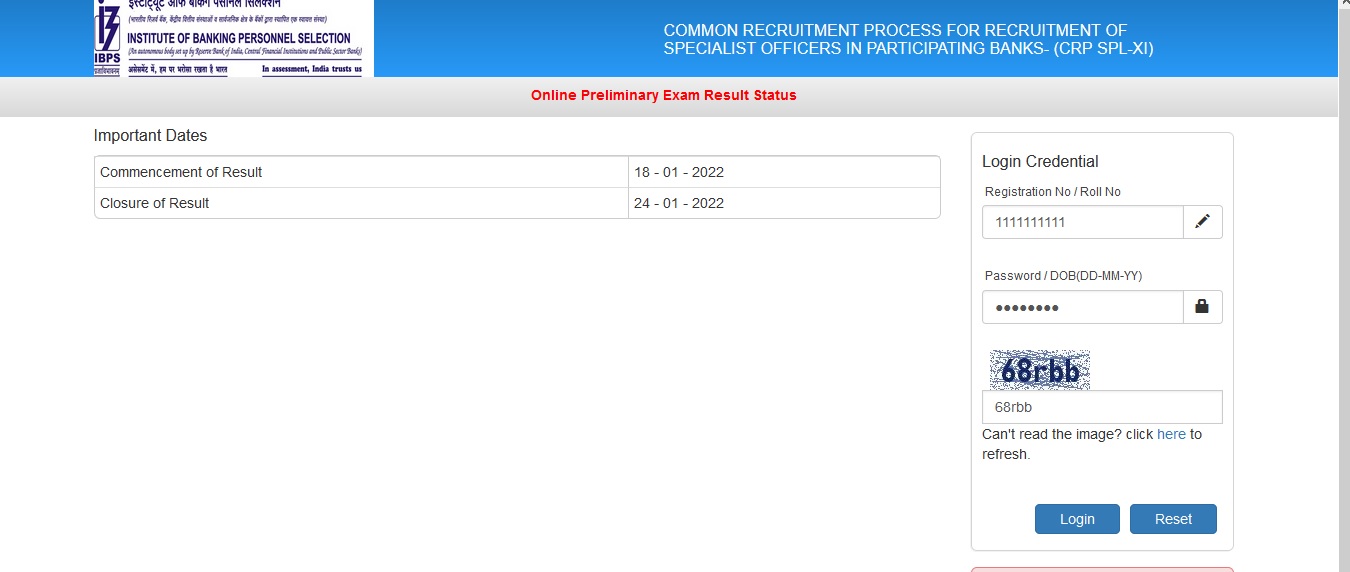 Important Dates of IBPS SO Pre Exam Result
Important Dates to check IBPS SO Pre Exam Result
Commencement of Result : 18 – 01 – 2022
Closure of Result : 24 – 01 – 2022
FAQs On IBPS SO Pre Exams Result
Frequently Asked Question FAQs On IBPS SO Pre Exams Result
1. Where do I get the REGISTRATION NO. & PASSWORD?
REGISTRATION NO. & PASSWORD are generated at the time of registration and displayed on the screen. These are also sent to the candidate immediately upon successful registration, by way of auto generated email acknowledgement, at the email address registered by him.
2. My Date of Birth is rejected on Login Screen?
Candidate should ensure that the DATE OF BIRTH is same as he had entered at the time of registration. Candidate can refer the APPLICATION PRINT for the DATE OF BIRTH entered by him. The date of Birth should be entered in DD-MM-YY format.
3. I am unable to login / screen displays the login failed message?
Please check your entries in login screen. You should use REGISTRATION NO. & PASSWORD as received at the time of registration by displaying on the screen and also mailed to you in auto generated email acknowledgement.
Disclaimer :
Result will be online from the above mentioned date. Check your result before the closure date.
Penalty for Wrong Answers :
There will be penalty for wrong answers marked in the Objective Tests. For each question for which a wrong answer has been given by the candidate one fourth or 0.25 of the marks assigned to that question will be deducted as penalty to arrive at corrected score. If a question is left blank, i.e. no answer is marked by the candidate, there will be no penalty for that question.
Cutoff Score: (Online Main Examination)
Each candidate will be required to obtain a minimum score in the test of Online Main examination and also secure sufficiently high scores to be considered to be shortlisted for interview.
Depending on the number of vacancies available, cut-offs will be decided and candidates will be shortlisted for interview. Prior to the completion of the interview process, scores obtained in the online Main examination will not be shared with the candidates shortlisted for interview.'
Interview:
Candidates who have been shortlisted in the Online Main Examination for CRP SPL-X will subsequently be called for an Interview to be conducted by the Participating Organisations and coordinated by the Nodal Banks in each State/ UT. Interviews will be conducted at select centres.
The centre, address of the venue, time & date of Interview will be informed to the shortlisted candidates in the call letter. Candidates are required to download their interview call letters from authorised IBPS website www.ibps.in. Please note that any request regarding change in date, centre etc. of interview will not be entertained.
However the conducting agencies reserve the right to change the date/ venue/ time/ centre etc. of interview or hold supplementary process for particular date / session / venue / centre / set of candidates at its discretion, under unforeseen circumstances, if any.
About IBPS:
The Institute of Banking Personnel Selection is a recruitment body that was started with an aim to encourage the recruitment and placement of young graduates in public sector banks in India. It also provides standardised systems for assessment and result processing services to organisations.
IBPS offers its services to banks in the public and private sectors, regional rural banks, and foreign banks. It also serves other financial institutions, including co-operative banks, insurance companies, academic institutions, and both private- and state-owned companies.