NTA Graduate Pharmacy Aptitude Test GPAT 2022 : National Testing Agency
Organisation : National Testing Agency (NTA)
Exam Name : Graduate Pharmacy Aptitude Test GPAT 2022
Announcement : Result Declared
Exam Held On : 09th April 2022
Website : https://gpat.nta.nic.in/
Want to comment on this post?

Go to bottom of this page.
NTA GPAT Result
Graduate Pharmacy Aptitude Test (GPAT) is a National Level Entrance Examination for entry into M. Pharma Programme. National Testing Agency (NTA) has announced the result of Graduate Pharmacy Aptitude Test GPAT 2022.

How To Check NTA GPAT Result?
To Check NTA GPAT Result, Follow the below steps
Steps:
Step-1 : Go to the link http://ntaresults.nic.in/resultservices/GPAT-auth-22
Step-2 : Enter the Application Number
Step-3 : Enter the Date of Birth
Step-4 : Enter Security Pin
Step-5 : Click on Submit button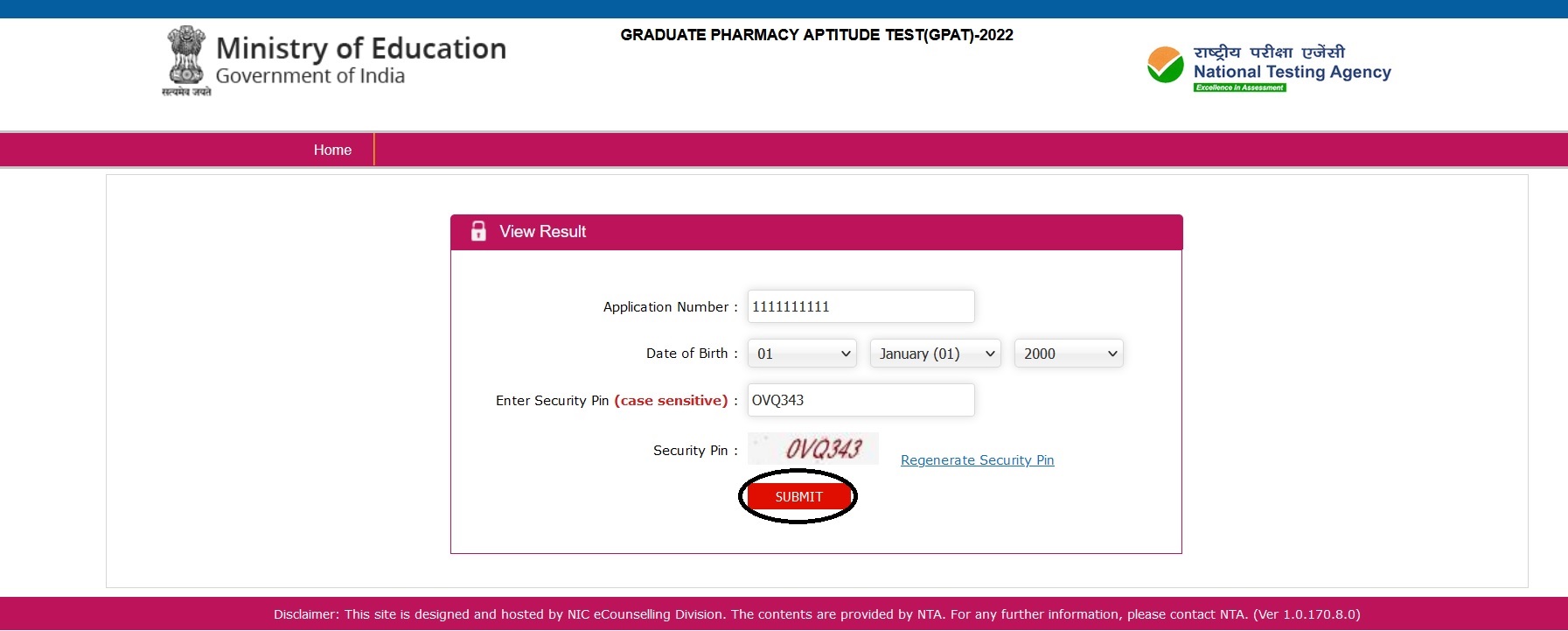 Rules For Tie-Breaking
** A National Merit Ranking (All India Rank) will be arrived based on the Score secured against Total Score.
** Student having same Score shall be listed in a chronological (ascending) order as per their date of birth.
** Candidates having same score would be given the same Merit, and the Merit number would be increased by the same number i.e. if there are two candidates at Merit 2, Merit 3 would not be awarded to the next candidate but Merit 4 would be given.
Correspondence With NTA
All the correspondence should be addressed by e-mail to NTA on gpat AT nta.ac.in. The email query shall be addressed only if it is not anonymous and contains the name, Registration/Application No, postal address and contact number of the sender.
An email containing vague or general queries and other queries as contained in the Information Bulletin shall not be entertained. Queries shall not be entertained from person claiming to be representatives, associates or officiates of the applicant candidate.
The following information shall not be revealed by phone or email:
a. Internal documentation/status.
b. Internal decision making process of NTA. Any claim/counter claim thereof.
c. Dates & venue of internal meetings or name of the staff/officers dealing with it.
d. Any information which in the opinion of NTA cannot be revealed.
Query Redressal System
National Testing Agency (NTA) has established a Query Redressal System (QRS), an online web-enabled system developed by NTA. QRS is the platform based on web technology which primarily aims to enable submission of queries/grievances by the Registered Candidate(s) of GPAT 2022 Examination with (24×7) facility for speedy redressal of the queries/grievances.
A Unique Registration Number will be generated for tracking the status of the queries/grievances. The Registered Candidate(s) are advised to use the online facility for speedy response before mailing their queries on the official email id of GPAT i.e. gpat AT nta.ac.in.
Common Services Centres/Facilitation Centres (Annexure-VI)
Candidates who are not well conversant to submit the online application due to various constraints, can use the services of Common Services Centre, Ministry of Electronics and Information Technology, Government of India under the Digital India initiatives of Hon"ble Prime Minister. The Common Services Centre (CSC) scheme is a part of the ambitious National e-Governance Plan (NeGP) of Government of India and is managed at each village panchayat level by a Village level Entrepreneur (VLE).
There are more than 1.5 lakhs Common Services Centres (CSC) across the country which will provide the desired support to candidates from urban as well as rural areas in online submission of application form and payment of fee through e-wallet. The list of the Common Services Centre is available on website:www.csc.gov.in.
Weeding Out Rules
The record of Graduate Pharmacy Aptitude Test (GPAT) -2022 would be preserved upto 90 days from the date of declaration of result.
Legal Jurisdiction
All disputes pertaining to the conduct of GPAT- 2022 Examination including results shall fall within the jurisdiction of Delhi / New Delhi only. Further, any legal question arising out of the Examination shall be entertained only when raised within 30 days from the declaration of result.The Director (Administration) of the NTA shall be the official by whose designation the NTA may sue or be sued