epfindia.gov.in EPFO Result 2023 Social Security Assistant SSA : Employees Provident Fund Organisation
Organisation : Employees' Provident Fund Organisation (EPFO)
Exam Name : Social Security Assistant SSA Stage-1
Date of Examination : 21st August 2023 to 23rd August 2023
Declaration of Result : 19/10/2023
Announcement : Result Declared 2023
Website : https://www.epfindia.gov.in/site_en/Recruitments.php
Want to comment on this post?

Go to bottom of this page.
How to Check Social Security Assistant Result?
To Check Result of EPFO for the post of Social Security Assistant, follow the below steps
i) Go to the link https://cnr.nic.in/NTAResult/Score/Login?apprefno=101452311
ii) Select Examination (EPFO SSA)
iii) Enter Application Number
iv) Enter Date Of Birth
v) Enter Security Pin (case sensitive) and
vi) Click on Login Button.
Related / Similar Result :

SSC Result Sub-Inspector Delhi Police & CAPFs Examination 2023

RPSC Result 2023 Rajasthan State & Subordinate Services Combined Competitive Exam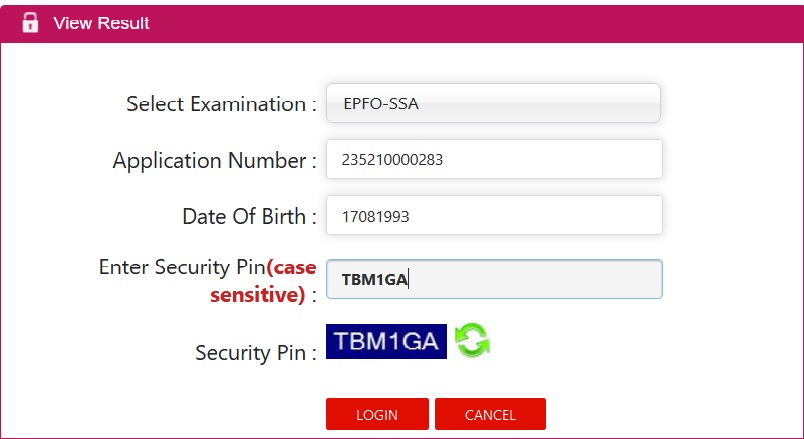 Result of Employees' Provident Fund Organisation (EPFO) Recruitment Examination for the post of Social Security Assistant. With reference to the subject cited above, the Stage-I Examination for recruitment for the post Social Security Assistant (SSA) was conducted by National Testing Agency (NTA) on 18th August 2023 and from 21st August 2023 to 23rd August 2023.
The Stage-I result of the aforesaid examination is now being declared on the official website, i.e., recruitment.nta.nic.in today. Candidates can check their result with the help of their Application Number & Date of Birth. The Result and Candidature of candidates is purely provisional and subject to verification of documents and other eligibility criteria at the Organisation.
Merely appearing and passing in examination, does not confer any right to the candidate for appointment. Selection in the examination does not confer upon candidates any right of appointment in the EPFO.
The function of the examination conducting agency is to recommend names of suitable candidates to the concerned authorities of the EPFO who in turn will issue the offer of appointment letter subject to availability of vacancies and satisfying all other eligibility criteria including antecedents and character.
The selection is subject to fulfilling the eligibility, rank in merit list, medical fitness, verification of original documents and such other criteria as may be prescribed by the EPFO.
Selection Procedure
1. Scheme of Examination
Scheme of Examination for the post of Social Security Assistant is as under :-
2. Phase I- Examination
Sr. No. Name of the Test (Objective Tests) No. of Qs. Max. Marks
1 General Aptitude 30 120
2 General Knowledge/ General Awareness 30 120
3 Quantitative Ability 30 120
4 General English with *Comprehension 50 200
5. Computer Literacy 10 40
Total 150 600
NOTE :
** Each question shall have 4 marks each.
** The marks obtained in Phase–I will be considered for final selection on merit.
** For each wrong answer, there will be a negative marking of one fourth of the mark assigned to that question.
** English comprehension shall be objective.
** Total marks 600.
** The candidates will be shortlisted for Phase-II in the ratio of 1:10 i.e. about 10 times the number of vacancies in each category on the basis of their performance in Phase-I.
** If the examination is held in more than one session, the scores across various sessions will be equated following standard practice to adjust for slight differences in difficulty level of different test batteries used across sessions.
3. Phase II-Computer Skill Test (Computer Data Entry Test)
4. Qualifying Marks: – Qualifying Marks in Phase–I (Main Exam.) will be decided as per discretion of EPFO.
5. Process for Arriving at Scores- If the examination is held in more than one session, the process of moderation will follow to ensure fairness.
Note: – Cut-offs are applied in two stages: on scores in individual tests and on Total Score.
6. Resolution Of Tie Cases
In cases where more than one candidate secures the equal aggregates marks in Phase-I, tie will be resolved by applying the following methods one after another:
i) Date of Birth, with older candidates placed higher.
ii) Alphabetical order in which names of the candidates appear.

Computer Skill Test (Computer Data Entry Test)
Candidates will be required to appear for the Skill Test to assess speed and accuracy for Data Entry Work. A typing speed of 35 words per minute in English or 30 words per minute in Hindi on computer. (35 words per minute and 30 words per minute correspond to 10500 Key Depression Per Hour (KDPH) / 9000 KDPH on an average of 5 key depressions for each word for Data Entry Work. Candidates short-listed for Skill Test will have to appear for a Skill Test.
NOTE:- Computer Skill Test will be qualifying in nature. Marks obtained will not be reckoned for merit ranking.