upsc.gov.in Result 2023 NDA & NA (I) Examination : Union Public Service Commission
Organisation : Union Public Service Commission (UPSC)
Exam Name : NDA & NA (I) Examination 2023
Date of Examination : 16th April, 2023
Declaration of Result : 27/10/2023
Announcement : Result Declared 2023
Website : https://www.upsc.gov.in/recruitment/recruitment-advertisement
Want to comment on this post?

Go to bottom of this page.
How to Get Result of NDA & NA (I) Examination?
1. The following is the list, in order of merit of 628 candidates, who have qualified on the basis of the results of the Written Examination held by the Union Public Service Commission on 16th April, 2023 and the subsequent Interviews held by the Services Selection Board, of the Ministry of Defence for admission to the Army, Navy and Air Force wings of National Defence Academy for the 151st Course and Naval Academy for the 113th Indian Naval Academy Course (INAC).
Related / Similar Result : NHPC Result 2023 Junior Engineer Civil, Senior Accountant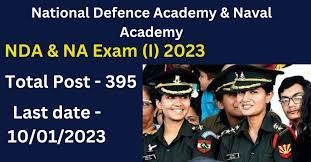 2. The results of Medical Examination have not been taken into account in preparing these lists.
3 The candidature of all the candidates is provisional, subject to their submitting the requisite certificates in support of date of birth and educational qualifications etc. claimed by them directly to the Additional Directorate General of Recruiting, Adjutant General's Branch, Integrated Headquarters, Ministry of Defence (Army), West Block No.III, Wing–I, R.K Puram, New Delhi -110066 wherever this has not already been done and NOT to UPSC.
4. In case, there is any change of address, the candidates are advised to promptly intimate directly to the Army Headquarter at the address given above.
5. The result is also available on the UPSC website at https://www.upsc.gov.in. However, marks of the candidates will be available on the website after 15 days from the date of declaration of final results.
6. For any further information, the candidates may contact Facilitation Counter near Gate 'C' of the Commission, either in person or on telephone Nos. 011- 23385271/011-23381125/011-23098543 between 10:00 hours to 17:00 hours on any working day.
In addition, for SSB/Interview related matter, the candidates may contact over telephone No. 011-26175473 or joinindianarmy.nic.in for Army as first choice, 011-23010097/Email:officer-navy@nic.in or joinindiannavy.gov.in for Navy/Naval Academy as first choice and 011-23010231 Extn. 7645/7646/7610 or www.careerindianairforce.cdac.in for Air Force as first choice.
List of Selected Candidates of NDA & NA (I) Examination
S.NO. ROLL NO NAME
1 8540139 SHIVRAJ SINGH PACHHAI
2 2655688 ISHAN TRIPATHI
3 6944537 ABHISHEK SINGH BHADOURIA
4 5946874 NAKSHATRA KANCHAN
5 3840189 ANAGH BISHT
6 1450098 RAGHAV GUPTA
7 0644793 ADITYA GUPTA
8 7041748 GAURAV YADAV
9 6341836 DEVANSH SHARMA
10 1144717 BHAVIKA
11 7840867 NIKHIL KUMAR MISHRA
12 1741936 CHIRAG SHARMA
13 7140610 AYUSH GARSHA
14 0866099 ABHINANDAN PRAKASH
15 3440090 VAMIKA
16 0641412 ABHINAV ARYA
17 1440538 ARNAV SINGH
18 3840278 SARANG INGLE
19 1140496 HEMANT JAT
20 1342444 AKSHADA RAJESH PADOLE
21 1144997 GARGI
22 7941223 SHUBHAM PARMAR
23 6349106 RISHIT GIRDHAR
24 6652346 DESHMUKH SHARDUL KIRAN
25 0441744 SIDDHARTH SINGH
26 1571546 ABHIJEET KUMAR
27 7840629 NIKHIL TIWARI
28 0640396 TEJBHANU SAINI
29 8840592 RONIT BALOURIA
30 0866020 SACHIN PAL TANWAR
31 6344485 YASHIKA LOHCHAB
32 1157234 MUDIT KUMAR GURJAR
33 1446506 AYUSH PANDEY
34 5640248 UJJAWAL RANJAN
35 6344244 JATIN SINGH LATWAL
36 0847382 PRIYAL JAIN
37 6644355 DEVENDRA PARAG JOSHI
38 6653874 POTDAR RAJAS ABHAY
39 7140620 ANKIT KUMAR SINGH
40 7951893 ARJIT SINGH
41 6641521 BHOIR SHREYAS SHANKAR
42 1940927 ADVAITH PRASANTH
43 3542774 AYUSH KUMAR
44 1567903 ADITYA PANDEY
45 7240163 AAYUSHEE HIMANSHUBHAI PATEL
46 3545810 MANPREET SINGH
47 3557245 RAHUL
48 2652855 HARSH KATARIA
49 2640206 KHUSHI KUMARI
50 8140057 ASHIM DAS
51 5040042 RASAMALA CHANDU KUMAR
52 6347792 DAKSH CHATURVEDI
List of Selected Candidates Download here : https://www.resultin.org/uploads/pdf2023/6537-na.pdf

Selection Procedure
** Two-stage selection procedure based on Psychological Aptitude Test and Intelligence Test has been introduced at Selection Centres/Air Force Selection Boards/Naval Selection Boards. All the candidates will be put to stage-one test on first day of reporting at Selection Centres/Air Force Selection Boards/Naval Selection Boards.
** Only those candidates who qualify at stage one will be admitted to the second stage/remaining tests. Those candidates who qualify stage II will be required to submit the Original Certificates along with one photocopy each of :
(i) Original Matriculation pass certificate or equivalent in support of date of birth,
(ii) Original 10+2 pass certificate or equivalent in support of educational qualification.
** Candidates who appear before the Services Selection Board and undergo the test there, will do so at their own risk and will not be entitled to claim any compensation or other relief from Government in respect of any injury which they may sustain in the course of or as a result of any of the tests given to them at the Services Selection Board whether due to the negligence of any person or otherwise. Parents or guardians of the candidates will be required to sign a certificate to this effect.
** To be acceptable, candidates for the Army/Navy/Naval Academy and Air Force should secure the minimum qualifying marks separately in
(i) Written examination as fixed by the Commission at their discretion and
(ii) Officer Potentiality Test as fixed by the Services Selection Board at their discretion.
** Over and above candidates for the Air Force, and all the SSB qualified candidates as per their willingness, eligibility and preference for flying branch of Air Force, should separately qualify the CPSS.
** Subject to these conditions the qualified candidates will then be placed in a single combined list on the basis of total marks secured by them in the Written Examination and the Services Selection Board Tests.
** The final allocation/selection for admission to the Army, Navy, Air Force of the National Defence Academy and 10+2 Cadet Entry Scheme of Indian Naval Academy will be made upto the number of vacancies available subject to eligibility, medical fitness and merit-cum-preference of the candidates.
** The candidates who are eligible to be admitted to multiple Services/Courses will be considered for allocation/selection with reference to their order or preferences and in the event of their final allocation/ selection to one Service/Course, they will not be considered for admission to other remaining Services/Courses.