rrccr.com Written Test Result & PET Schedule Trackman, Helper 2013-2014 RRC Central Railway : Recruitment Cell
Organisation : Railway Recruitment Cell RRC CR Central Railway
Announcement : Written Test Result & PET Schedule
Designation : Trackman, Safaiwala, Helper
Reference Number : Employment Notice No. RRC/CR/3/2013
Get your Result : http://www.rrccr.com/Home/Result
Want to comment on this post?

Go to bottom of this page.
RRC Central Railway Written Test Result
Written Exam Result and Schedule for Physical Efficiency Test (PET) Employment Notice No. RRC/CR/3/2013 Dated – 08/08/2013
Related : RRC Central Railway Result Fifth Provisional Part Panel Group D : www.resultin.org/35.html
The result of written test held in Nov. 2014 against Emp. No. 03/2013 is uploaded on this website!! Please read the Instructions carefully!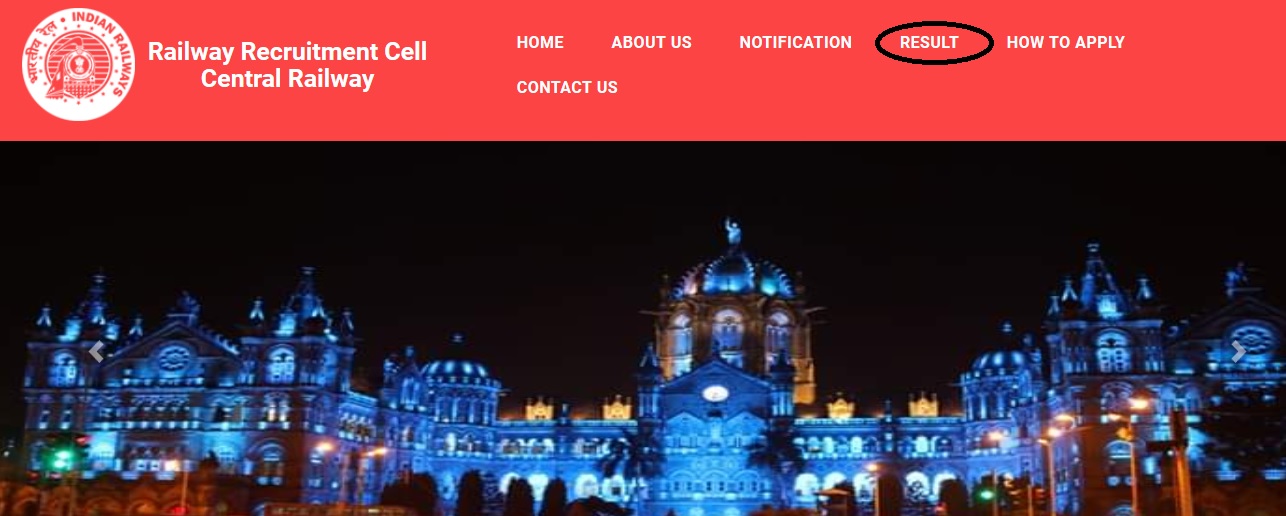 To Check Written Test Result & PET Schedule
PET Schedule
The candidates, who are qualified on the basis of Written Tests held on 02/11/2014, 09/11/2014, 16/11/2014, 23/11/2014 and 30/11/2014 are being called for the Physical Efficiency Test (PET). The PET will be held at Pune & Nagpur from 23.03.2015 to 31.03.2015 at the following address.
Central Railway
Tadiwala Road Sports Ground,
In front of Railway Institute,
(Near Pune Jn.Railway Station)
Pune – 411 001.
Central Railway Sports Ground (Old),
Near Railway Institute,
Ajni,
Nagpur – 440 003.
The number of candidates called for Physical Efficiency Test (PET) are 02 (two) times the number of vacancies.
Instructions To Candidates
1) ELIGIBLE candidates on the basis of written test merit will receive PET call letter mentioning their VENUE and DATE of PET Test. Railway Recruitment Cell/Wadibunder/Central Railway will not be responsible for postal delay or wrong delivery.
2) In case of non-receipt of call letter, duplicate call letter can be downloaded from this Website. Facility to down load call letter will be made available one week before from the date of PET examination of the individual candidate. Down loaded call letter obtained through this website is allowed to appear for PET.
Note: The SC/ST candidates who are availing travelling facility on PET call letter will not be able to travel on downloaded/duplicate PET call letter because Original Admit card is required for travelling in the train.
3) Further, duplicate PET call letters can also be obtained by the Eligible Candidates themselves by producing
(a) one recent passport sized photograph with original Identity proof like Driving License, PAN Card, Voters Card, Passport etc.
(b) the counterfoil of the Original call letter of written test from 19/03/2015 to 30/03/2015 during 10:00 to 17:00 hours (Excluding Sunday & Public Holidays) on the above mentioned address by producing the counterfoil of the Original call letter of written test
4) Criteria for PET :
For Male Candidates For Female Candidates Should be able to run for a distance of 1000 meters in 4 minutes and 15 seconds in one chance.
Should be able to run for a distance of 400 meters in 3 minutes and 10 seconds in one chance.
5) The call letter does not by itself give any entitlement whatsoever for any appointment on the Railway and is issued only for attending the PET, which is only the qualifying test. Result of PET will be announced on the same day, after test, as far as possible. Calling for PET or even qualifying in the same does not give any claim for appointment.
6) Candidates should report to PET venue one hour before the time indicated on the call letters. Candidates will not be allowed to enter the venue without producing this call letter.
7) No request for change in date, venue and time for PET will be entertained. Candidates are advised to appear for the PET in appropriate clothes and shoes.
8) Though every effort will be made to conduct PET on the same day, candidates are advised to come prepared to stay for two to three days, if required, due to any unforeseen circumstances.
9) Candidates will be given only one opportunity and request for second opportunity will not be entertained under any circumstances.
10) Candidates are expected to take adequate care while undergoing PET to avoid any injury to themselves or those around them. The Railway will not be responsible for any injury or damage suffered/caused during the Physical Efficiency Test.
11) Resorting to any unfair means/misconduct/misbehavior/Canvassing etc. during the PET will disqualify the candidate.
12) RRC reserves right to rectify commission/omission, if any, in preparation of result at any stage of recruitment process.
13) The decision of the PET committee at the venue regarding fitness/unfitness of candidates in the PET will be final.
14) The candidates are advised to ensure in their own interest to have their health checked with a Doctor before coming for PET. Administration will not be held responsible for any untoward incident.