UPSSSC Mandi Parishad Exam Result 2020 : Uttar Pradesh Subordinate Services Selection Commission
Organisation : Uttar Pradesh Subordinate Services Selection Commission (UPSSSC)
Exam Name : Rajya Krishi Utpadan Mandi Parishad (Sanyukt Samvarg) Pratiyogitatmak Pariksha 2018
Announcement : Result 2020
Exam Date : 30th May 2019
Website : http://upsssc.gov.in/Default.aspx
Want to comment on this post?

Go to bottom of this page.
UPSSSC Mandi Parishad Result
Result of Uttar Pradesh Subordinate Services Selection Commission (UPSSSC), Mandi Parishad Exam 2018 has announced.
Related / Similar Result : UPSSSC Combined Computer Operator Result 2021

How To Check Result?
Just follow the simple steps mentioned below to know the result of UPSSSC Mandi Parishad Exam 2018.
Steps:
Step-1 : Go to the link http://upsssc.gov.in/ResultsDire.aspx
Step-2 : Then click on the "Result" Link


Step-3 : Select "Registration (or) Roll Number" option
Step-4 : a. If your option is "Candidate Registration Number Wise", then enter the below details
1.Enter the Candidate Registration Number
2. Select the Date of Birth (DD/MM/YYYY)
3. Select the Gender
4. Enter the Verification Code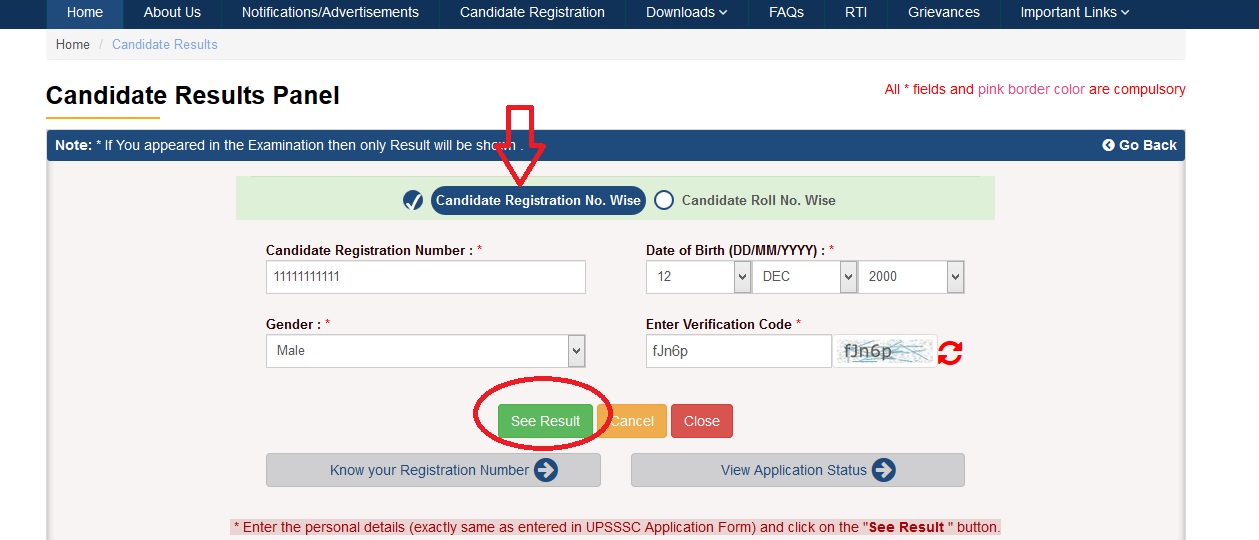 b. If your option is "Candidate Roll Number Wise", then enter the below details
1. Select the Advertisement Number
2. Enter the 6 Digits Candidate Roll Number
3. Select the Date of Birth (DD/MM/YYYY)
4. Select the Gender
5. Enter the Verification Code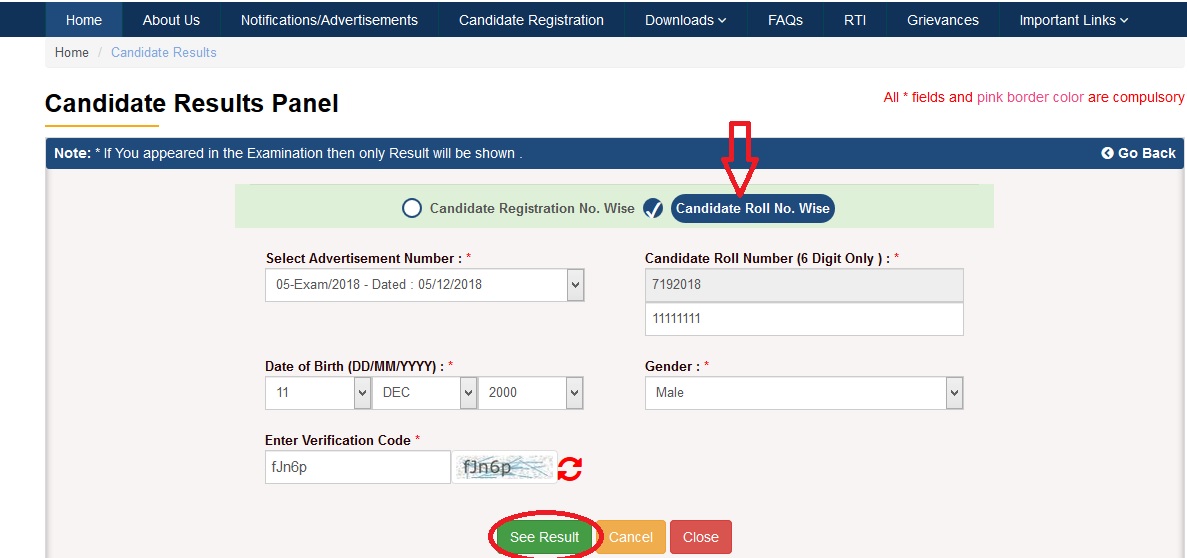 Step-5 : Finally submit the "See Result" button
Note:
Result Visible upto 25/11/2020
Privacy Policy:
As a general rule, this website does not collect Personal Information about you when you visit the site. You can generally visit the site without revealing Personal Information, unless you choose to provide such information. NIC website does not automatically capture any specific personal information from you (like name, phone number or e-mail address), that allows us to identify you individually.
Site Visit Data:
This website records your visit and logs the following information for statistical purposes your server's address; the name of the top-level domain from which you access the Internet (for example, .gov, .com, .in, etc.); the type of browser you use; the date and time you access the site; the pages you have accessed and the documents downloaded and the previous Internet address from which you linked directly to the site.
We will not identify users or their browsing activities, except when a law enforcement agency may exercise a warrant to inspect the service provider's logs.
Collection of Personal Information:
We do not sell or share any personally identifiable information volunteered on the NIC website to any third party (public/private). Any information provided to this Website will be protected from loss, misuse, unauthorized access or disclosure, alteration, or destruction.
If you are asked for any other Personal Information you will be informed how it will be used if you choose to give it. If at any time you believe the principles referred to in this privacy statement have not been followed, or have any other comments on these principles, please notify the webmaster through the contact us page.