secondary.biharboardonline.com : BSEB SAV Result 2021 Simultala Awasiya Vidyalaya Class 6th Entrance Exam Bihar
Organisation : Bihar School Examination Board (BSEB)
Exam Name : Simultala Awasiya Vidyalaya (SAV) Class 6th Premiliary Entrance Examination, 2021
Announcement : Result Declared
Website : http://www.savbihar.ac.in/index.html
Want to comment on this post?

Go to bottom of this page.
BSEB SAV Class 6th Result
Bihar School Examination Board (BSEB) has released the result of Simultala Awasiya Vidyalaya (SAV) Class 6th Exam 2021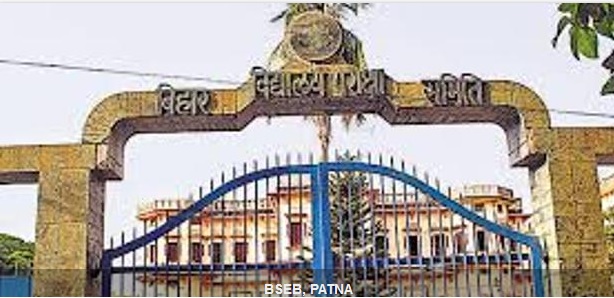 How To Check Result?
Just follow the simple steps mentioned below to know the result
Steps:
Step-1 : Go to the link http://secondary.biharboardonline.com/Index.html#
Step-2 : Click on the link "Result"
Step-3 : Then click on the PDF links under "Simultala Awasiya Vidyalaya Entrance Test 2021" to check your result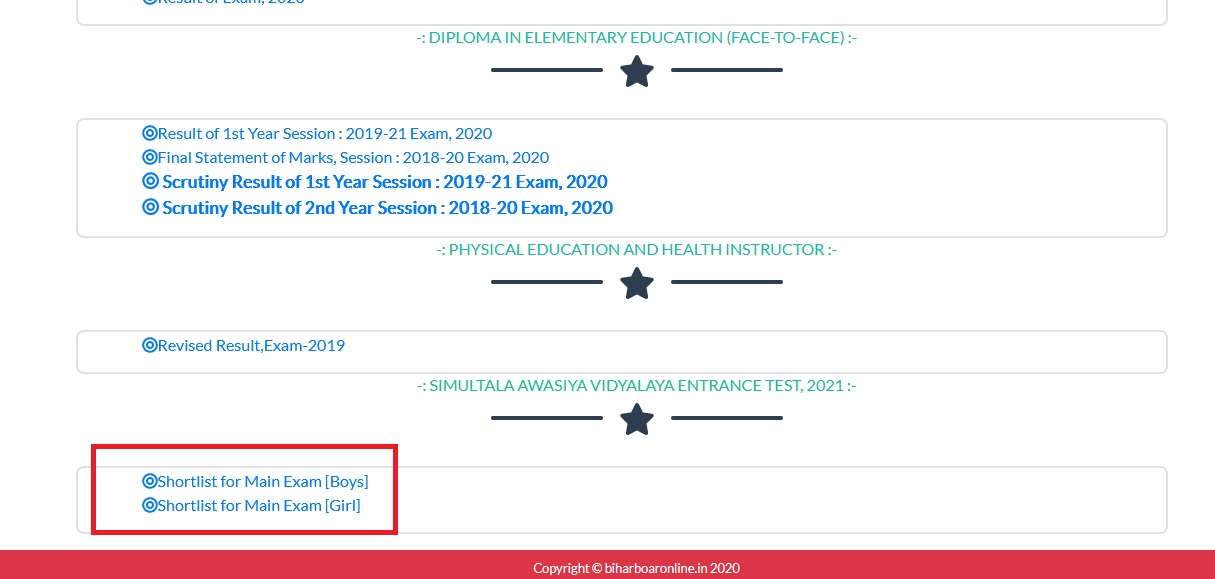 List of Shortlisted Candidates
Shortlist For Main Exam (Boys)
Roll Number & Candidate's Name
1160063 Anis Alam
1160072 Anish Paswan
1160077 Anupam Vatsa
1160091 Bhaskar Kumar Aditya
1160126 Pranav Kumar
1160144 Sahil Reza
1160145 Samidhtulya
1160157 Sobhit Kumar
1160167 Rishi Raj
1260027 Abhishek Kumar Anand
1260064 Md Kamran Alam
1460085 Devsheel Thakur
1460094 Himesh Das
1460115 Rajat Kumar Rana
2160134 Raman Kumar
2160155 Shahil Raj
2160160 Shlok Pathak
2260113 Arya Raj
2260155 Hemant Raj
2260185 Nishit Arya
2260201 Priyanshu Raj
2260224 Rohit Raj
2260232 Santosh Kumar
2260263 Ujjwal Kumar
For Full List, Click Here :
https://www.resultin.org/uploads/pdf2021/5093-Boys.pdf
Shortlist For Main Exam (Girls)
Roll Number & Candidate's Name
1160004 Alshifa Naz
1160005 Anshu Kumari
1160025 Pihu
1260005 Khushi Rani
1260006 Komal Kumari
1260011 Neha Kumari
1260021 Shreshtha Shri
1260026 Ujjwal Kumari
1360003 Kumari Ziya
1360004 Neha Kumari
1360006 Tanya Kumari
1460004 Akanksha Priya
1460011 Archi Kumari
1460026 Monika Bharti
1460031 Noore Ain Fatema
1460032 Priya Kumari
1460038 Sakshi Raj
2160002 Aastha Priya
2160004 Amrita Bharti
2160014 Deepshikha
2160016 Jyoti Kumari
2160044 Samridhi Shri
For Full List, Click Here :
https://www.resultin.org/uploads/pdf2021/5093-Girls.pdf
About SAV:
Concept of Simultala Awasiya Vidyalaya is designed on the basis of four of major aspects :-
A. Gurulkul Education System :
Students will stay with GURU & GURUMATA in Ashram System. To understand the value of self dependence and the dignity of labour, they will perform routine tasks related to house chores like cleaning of their surrounding, utensils they use for eating and even lavatory.
B. Vasudhaiv Kutumbakam :
To be able to understand the challenges of globalization and be able to perform at that level.
C. Center of Excellence :
Whatever be the profession they wish to join whether they become a Scientist/Scholar, Administrator/Management Professional, into the profession of creativity or doing some work in the area of peace and economic reforms, whatever they do they are supposed to be given a proper training/to undergo learning for excelling in their respective field.
D. Sense of Belongingness :
They are supposed to learn/understand the social issues. Belongingness will get them close to understanding the issues and how they can contribute, be it in any of ways whether by sitting on remotely distant places but once they get this feeling nurtured properly they will always be connected and will eager to be a solution provider.