IGNOU June TEE Result 2022 : The Indira Gandhi National Open University
Organisation : The Indira Gandhi National Open University (IGNOU)
Exam Name : IGNOU Term End Exam (TEE)
Exam Date : 22nd July – 5th September 2022
Announcement : Result Declared
Website : http://www.ignou.ac.in
Want to comment on this post?

Go to bottom of this page.
IGNOU June TEE Result
The Indira Gandhi National Open University (IGNOU) has announced the result of IGNOU Term End Exam (TEE). The exam held on 22nd July – 5th September 2022. Those enrolled candidates can check their result.
Related / Similar Result : Bihar BPSC MVI Exam Final Result 2022

How To Check IGNOU June TEE Result ?
To Check IGNOU June TEE Result, follow the below steps
Steps :
Step-1 : Go to the link – https://termendresult.ignou.ac.in/
Step-2 : In Student Login select "June 2022 Exam Result"
Step-3 : Enter your Enrolment No
Step-4 : Click on the button search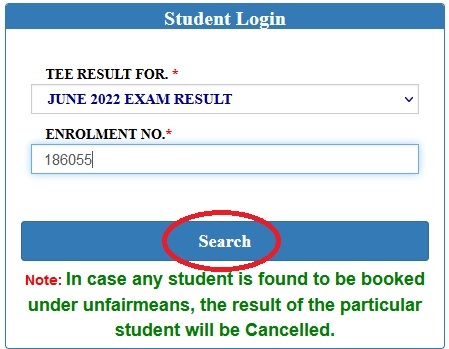 IGNOU June TEE Result Announcement
** Indira Gandhi National Open University, IGNOU has declared the IGNOU Result 2022 for the June Term End Examination, TEE.
** Candidates who took the June TEE IGNOU test can now access the university's official website, ignou.ac.in, to check the status of their IGNOU results and get their scorecard
** The Indira Gandhi National Open University (IGNOU) today released the June 2022 term end examination result.
** The June Term End Exams were administered by IGNOU from July 22, 2022, to September 5, 2022. The exam was administered in morning and evening shifts.
** The morning session took place from 10 AM to 1 PM, while the evening session ran from 2 PM to 5 PM.
** Students who appeared for the exams can now check their score at the official IGNOU website
** All the candidates who appeared for the IGNOU June TEE 2022 can check their scorecards
** The TEE June 2022 IGNOU scorecard can be accessed by entering the enrollment number.
** Many students enroll in various IGNOU PG & UG diplomas and other courses. Now, candidates are looking for the TEE June exam result that is generally conducted twice each year, in June and December.
** Earlier, Indira Gandhi National Open University successfully conducted the June term-end exam from 22nd July 2022 to 5th September 2022.
** The university will release the IGNOU TEE June 2022 result for the RCA, MCA, B.Com, MP, BDP, BA, BSC departments on 12th October 2022.
** The student's performance on assignments, practical projects, tests, and other tasks will be detailed on the scorecard. In other news, IGNOU has extended the July 2022 Session's re-registration deadline to October 20.