BHC Recruitment Shortlisted Candidates List 2018 : High Court of Bombay
Organisation : High Court of Bombay
Announcement : BHC Recruitment Shortlisted Candidates List 2018
Post Name : Recruitment for the posts of Stenographers (L.G.), Junior Clerks and Peon/Hamal
Total Vacancies : 8921
Applicable State : Maharashtra
Website : http://bombayhighcourt.nic.in/
Want to comment on this post?

Go to bottom of this page.
BHC Recruitment Shortlisted Candidates List
Bombay High Court has published the shortlisted candidate's list for following posts of Stenographer, Lower Division Clerk, Peon/Hamal.
Related : Maharashtra State Board of Secondary & Education HSC Result 2018 : www.resultin.org/3378.html
For this vacancy, more than 2 Lakh candidates applied and on 31st May 2018 BHC has published the shortlisted candidate's list.

How To Check Shortlisted Candidates
Step 1 : Go to the official website, View on the home page.Click on "Recruitment" Tab


Step 2 : Next screen will be displayed, Click on "Recruitment Court Notice" tab in main menu, then click on "Shortlisted candidates " option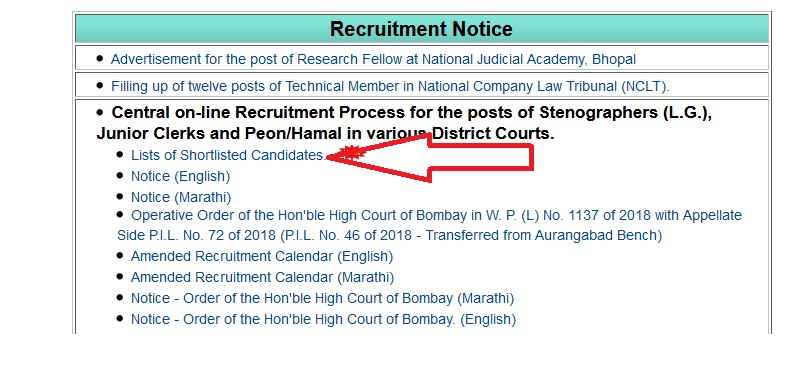 Step 3 : Shortlisted candidates list available in PDF Format, Click on the link and check your name in the list.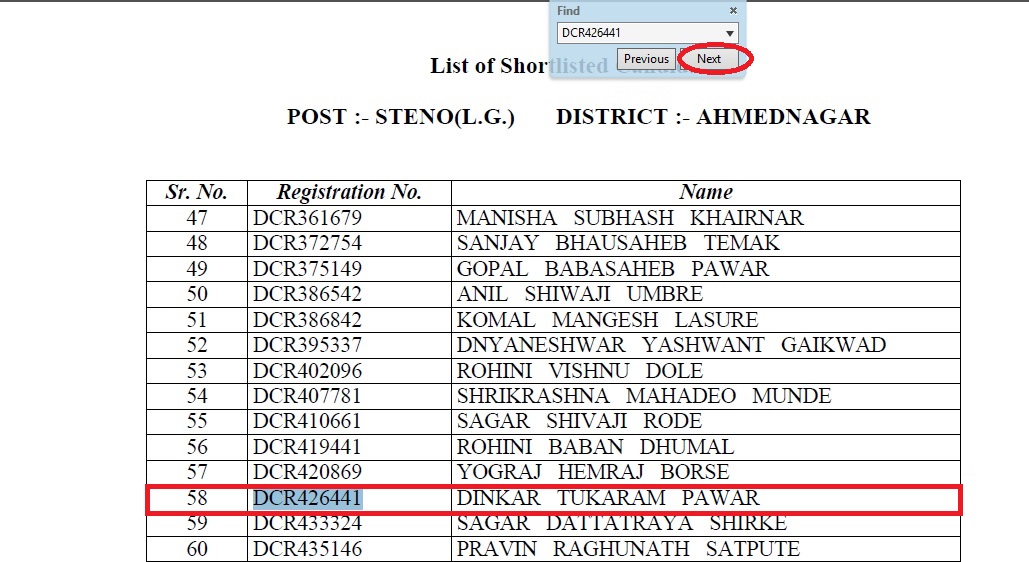 Shortlisted Candidates List :
www.resultin.org/uploads/pdf2018/3401BHC.pdf
List of Shortlisted Candidates
POST :- STENO(L.G.)
DISTRICT :- AHMEDNAGAR
| | | |
| --- | --- | --- |
| Sr. No. | Registration No. | Name |
| 1 | DCR6903 | GANESH GOPAL JADHAO |
| 2 | DCR11821 | MAHESH DATTATRYA WAKADE |
| 3 | DCR42477 | SHYAM NAMDEO BHARSHANKAR |
| 4 | DCR46227 | SACHIN BALU SABALE |
| 5 | DCR70338 | SAMEER ABDULRAHEMAN SHAIKH |
| 6 | DCR83061 | VINOD POPAT SHINDE |
| 7 | DCR83190 | SOMNATH SARJERAO MODKE |
| 8 | DCR91286 | TATYA SHAHADEV KARDILE |
| 9 | DCR102785 | AKSHAY BABASAHEB WAGHMARE |
| 10 | DCR105596 | PRIYANKA SATYAVAN BHOR |
POST :- JR.CLERK
DISTRICT :- AHMEDNAGAR
| | | |
| --- | --- | --- |
| Sr. No. | Registration No. | Name |
| 1 | DCR96 | RAKESH ASHOK BHASKAR |
| 2 | DCR219 | SANTOSH NARAYAN GADAKH |
| 3 | DCR228 | RUKAIYYA GULANBHAI SHAIKH |
| 4 | DCR335 | SUMIT BHARAT BHOJ |
| 5 | DCR590 | AMOL VIJAY TEKE |
| 6 | DCR836 | RAMNATH YOSEF RANANAWARE |
| 7 | DCR853 | SAURABH SUBHASH GUPTA |
| 8 | DCR1054 | SANKET SURESH BHINGARDIVE |
| 9 | DCR1503 | ANITA GUNVANTRAO NIGHOT |
| 10 | DCR1811 | NITIN SARJERAO MANE |
POST :- PEON-HAMAL
DISTRICT :- AHMEDNAGAR
| | | |
| --- | --- | --- |
| Sr. No. | Registration No. | Name |
| 1 | DCR626 | PRASHANT ASHOK UBALE |
| 2 | DCR667 | SUNIL THAKAJI KHADE |
| 3 | DCR669 | ANIL THAKAJI KHADE |
| 4 | DCR841 | RAHUL BANSI CHOURE |
| 5 | DCR900 | AMOL BHAUSAHEB KHARE |
| 6 | DCR2045 | PARASRAM MITTHU BELHEKAR |
| 7 | DCR2822 | SANJEEV GOPALRAO MOTAGI |
| 8 | DCR2844 | KHOSE AVINASH SOPAN |
| 9 | DCR3253 | SANTOSH PANDURANG JADHAV |
| 10 | DCR3586 | SUBHASH SHAM WAGHMARE |